SYSTEM : DYNAMITE BATTLE
PRODUCT CODE : B-194-06
COMPONENT : LAYER
SPIN DIRECTION : RIGHT SPIN
WEIGHT : Approx. 22,2 g (Clear Wheel : 5,1g/Metal Wheel 17,1g)
RELEASE DATE : December 29th, 2021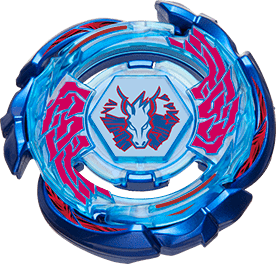 Description of the Galaxy Pegasis Layer
First released with the B-00 Metal Fight Beyblade 2020 Baku Set as part of Metal Fight Beyblade's 10th Anniversary for the Burst System on December 30th, 2020, Galaxy Pegasis is a right-spin Energy Layer.
It was first introduced in a regular release with the B-194 Random Booster Vol. 27 as part of the Dynamite Battle system on December 29th, 2021.

While released in the Dynamite Battle system, Galaxy Pegasis Layer is a remake, therefore it does not feature the usual DB interchangeable parts (Blade, Armor, DB Core), and it is not compatible with Low and High Mode.

However, this Energy Layer is made of two parts : the inner part, the "Clear Wheel", is made of plastic. The outer part, the "Metal Wheel" is made of metal, featuring three main contact points. With the contact points being made of metal, the paint will come off very quickly, leaving green residue on stadiums and opposing Beyblades.

Featuring metal parts, this Energy Layer unique design has interesting attack potential but it is not meant to compete with other models from the Dynamite Battle and Burst Ultimate systems, the best way to enjoy it is to put it against other metal generation remake Layers.

Therefore, Galaxy Pegasis can recommended to collectors.
List of Beyblade Products
You can find the Galaxy Pegasis Energy Layer in the following products :
B-00 Metal Fight Beyblade 2020 Baku Set : Galaxy Pegasis 5Glaive Jolt'