SYSTEM : DYNAMITE BATTLE
PRODUCT CODE : B-00
TYPE : STAMINA
COMPONENT : PERFORMANCE TIP
WEIGHT : Approx. 7,9 g
RELEASE DATE : July 16th, 2022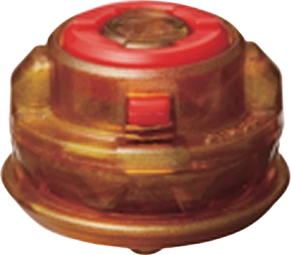 Description of Just' Performance Tip
First released with the B-00 Gold Driver Get Campaign as part of the Dynamite Battle and Burst Ultimate systems on July 16th, 2022, Just' is a defense type Performance Tip. Just' is the "dash" version of the Just Performance Tip. You can see our complete article on the Just driver here.

This driver features a short, conical sharp plastic tip sitting under a fairly wide base, also made of plastic. The base of the driver is surrounded by a free-spinning plastic disc. Advertised as a defense type Performance Tip, Just' has a traditional stationary, stamina type behavior.

In theory, the wide base and the free-spinning disc surrounding it are meant to keep the combination stable, and prevent knock-outs. When struck, the free-spinning disc will make contact with the stadium floor, and should in theory act as a brake to prevent the combination from being pushed in an exit pocket, while also helping the combo to regain balance.

Furthermore, the very sharp plastic tip should create high stamina potential.

In reality, the disc is not spinning freely enough and the tip is far too short to have any of these attributes. The short height of the tip results in the base and its disc easily making contact with the stadium floor. However, since the disc does not spin freely enough, it will create a very high scraping risk, slowing the combination down dramatically and destabilizing it.

Therefore, a combination using this Performance Tip will have a high risk of scraping and may be destabilized when it is struck by an opposing Beyblade. Even in very stationary stamina battles, Just' will create scraping as soon as the combination loses spin velocity and starts tilting. Those features result in poor stamina and defense potential, making this driver difficult to recommend.
Final Thoughts on Just
Despite the "Dash" upgrade and its reinforced spring system, Just' suffers from the same flaws as its predecessor. It has poor stamina and defense potential, having a very high risk of scraping due to its short height and overall design.

Therefore, this Performance Tip cannot be recommended.
List of Beyblade Products
You can find the Just' Performance Tip in the following products :
B-00 Just' (Gold Driver Get Campaign)