SYSTEM : BURST
PRODUCT CODE : B-03
TYPE : STAMINA
COMPONENT : PERFORMANCE TIP
WEIGHT : Approx. 5,7 g
RELEASE DATE : July 18th, 2015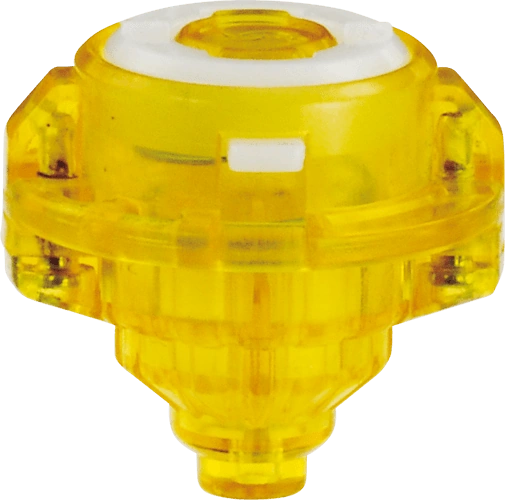 Description of Survive
First released with B-03 Ragnaruk Heavy Survive Starter on July 18th, 2015, Survive is one of the first Performance Tips released in the Beyblade Burst generation.

Featuring a sharp cone-shaped plastic tip barely protruding from a round base, Survive used to be a top-tier competitive component in the early days of the Beyblade Burst Generation. While the sharp shape of the tip offers good stamina, its wide conic shape also offers good defense by increasing K.O. resistance.

Being one of the first stamina drivers in the Beyblade era, Survive still displays those properties and qualities but it has been outclassed since, making it an average stamina performance tip by modern standards.

Therefore, Survive is not a must-have, but it remains a nice addition in a player's collection.
Note : In the Dynamite Battle system, Survive has been upgraded with a metal version, Metal Survive. See our complete article here.
List of Beyblade Products
You can find the Survive performance tip in the following products :
B-03 Ragnaruk Heavy Survive
B-13 Valkyrie Spread Survive
B-15-04 Random Booster Volume 1 Trident Heavy Claw : Kerbeus Heavy Survive
B-22 Beyblade Custom Set Defense & Stamina : Wyvern Heavy Survive
B-130-06 Random Booster Volume 13 : Emperor Forneus 13Meteor Survive
B-146-03 Random Booster Volume 16 : Flare Ashura 5 Survive Retsu
B-164-02 Random Booster Volume 20 : Glide Hyperion 7Bump Survive 1D
B-178-02 Random Booster Volume 24 : King Helios Survive 1B (Fire Gold Ver.)