SYSTEM : BURST ULTIMATE
PRODUCT CODE : B-198-03
TYPE : STAMINA
COMPONENT : PERFORMANCE TIP
WEIGHT : Approx. 7,2 g
RELEASE DATE : May 28th, 2022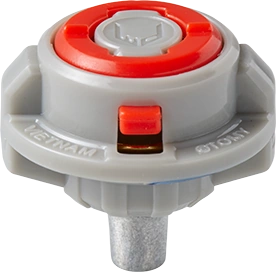 Description of the Wedge' Driver
First released with the B-198 Random Booster Vol. 29 as part of the Burst Ultimate system on May 28th, 2022, Wedge' is the "dash" version of the Wedge Performance Tip. You can see our complete article on the Wedge driver here. The dash version of a driver has a stronger spring, increasing burst resistance significantly.

This driver features a tall, sharp metal tip intended to decrease friction with the stadium floor, thus increasing stamina potential.

In theory, the limited friction also increases Burst Resistance. However, while the metal tip does have high stamina potential, its low levels of friction are also decreasing knock-out resistance, making the combination easier to push around the stadium and destabilize.

Furthermore, the metal tip is hollowed, which limits the weight added by metal. It also looks to result in a lack of balance, decreasing the stamina potential of this Performance Tip.
Final Thoughts
Being made of metal, this Performance Tip features high stamina potential but poor defense potential, making it outclassed by many other stamina drivers available, despite the Dash upgrade and its reinforced spring system.

Therefore, this driver is not a must have, but it can be a great addition in any player's collection.
List of Beyblade Products
You can find the Wedge' Performance Tip in the following products :