SYSTEM : DYNAMITE BATTLE
PRODUCT CODE : B-187
COMPONENT : ARMOR
WEIGHT : Approx. 13,4 g
RELEASE DATE : July 17th, 2021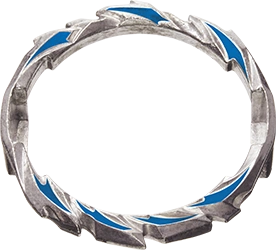 Description of the "7" Armor
First released with the B-187 Savior Valkyrie Shot-7 Starter on July 17th, 2021, "7" is an Armor from the Dynamite Battle system.

The number "7" means that the weight is evenly distributed at seven points. This armor features four points on one side and three on the opposite side, making the armor unbalanced. This weight distribution was intended to increase the attack potential of a combination.

In reality, this unbalanced weight distribution cannot create synergy with any attack layer available in the Dynamite Battle and Burst Ultimate systems. Furthermore, this weight distribution is exactly the opposite of what is needed for stamina and defense combinations.

Therefore, this armor cannot be recommended.
List of Beyblade Products
You can find the "7" Armor in the following products :