SYSTEM : DYNAMITE BATTLE
PRODUCT CODE : B-187
TYPE : ATTACK
COMPONENT : PERFORMANCE TIP
WEIGHT : Approx. 42,5 g
RELEASE DATE : July 17th, 2021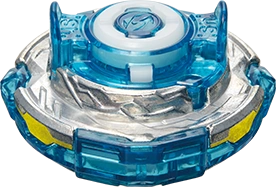 Description of Shot
First released with the B-187 Savior Valkyrie Shot-7 Starter as part of the Dynamite Battle on July 17th, 2021, Shot is an attack type Performance Tip.

Shot features an integrated Forge Disc and a small, sharp plastic tip, reminiscent of stamina type Performance Tips. However, Shot features a gimmick : when launched with enough power, a tall and hollowed round flat tip located inside the driver will be forced out by a built-in spring mechanism. This plastic "tube" will completely cover the short tip, thus becoming the new driver's tip.

The built-in mechanism will allow the combination to bounce on the stadium floor when the gimmick activates, and the sudden change of the tip's shape will create a brutal and unpredictable acceleration along with a drastic change in behavior.

Once the gimmick has been triggered, Shot will typically go in a Tornado Stall, moving in wide circles, kissing the tornado ridge, or bouncing off the walls of the stadium if the launch was too hard. Therefore, you can't expect a lot of control and flower patterns from this driver.

The starting form of Shot being a sharp and short tip, this driver is pretty much useless if the gimmick is not triggered. With such a short tip and a large, wide base, there is a scraping risk and overall poor stamina. Since a launch hard is needed to activate the gimmick, keeping control over the tornado stall is difficult.
A few positives
With a bit of luck, Shot can produce exciting battles at times. If it manages to make a clean tornado stall, it will do so while speeding up and it can result in spectacular K.O.'s. Based on our test battles, it looks like Shot works better in the DB standard stadium, where it has more room to accelerate without going straight into a stadium wall.
Furthermore, if the gimmick triggers halfway in the battle while both combinations are close to each other, the sudden acceleration can lead to stunning, powerful strikes.
Final thoughts on Shot
Shot is far from being competitive, and it can be both fun and frustrating in a friendly environment. For players who are fans of the anime, and kids willing to play with Savior Valkyrie Shot-7, the gimmick can compensate for the lack of performance. Kids who manage to trigger the gimmick will feel rewarded.

Therefore, competitive players will find no use to this Performance Tip. In a friendly or family environment however, Shot (especially combined to Valkyrie) can be a lot of fun, and it could create special moments and memories.
List of Beyblade Products
You can find the Shot performance tip in the B-187 Savior Valkyrie Shot-7 Starter only.