SYSTEM : DYNAMITE BATTLE
PRODUCT CODE : B-188
TYPE : BALANCE
SPIN DIRECTION : DUAL SPIN
WEIGHT : Approx. 77,7 g
OWNER : SHU KURENAI
RELEASE DATE : August 7th, 2021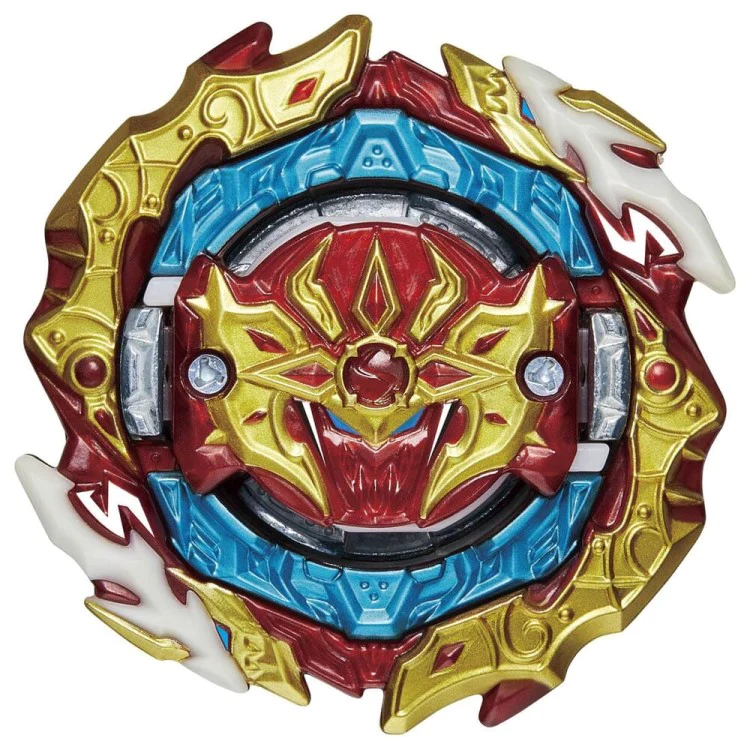 Avoid counterfeits ! You can find the authentic Astral Spriggan Over Quattro-0 by Takara Tomy on BEYBLADE TOYS
Description of Astral Spriggan
Astral Spriggan Over Quattro-0 is a balance type combination featuring a dual-spin layer. Astral Spriggan can also see its behavior changed thanks to the Quattro performance tip, allowing to switch between four different tips/modes.

Out of the box, Astral Spriggan comes in left-spin mode, looking like the picture above. In left-spin mode, the white rubber parts are designed to allow spin-steal, while the two remaining blades have decent attack potential. With Quattro being able to switch between attack, defense, balance and stamina modes, a left-spin Astral Spriggan is highly versatile, making it a very strong stock combination. This combination will allow Astral Spriggan to counter a wide range of opponents, from attack to spin-equalizing stamina combinations.

In right-spin mode, Astral Spriggan is a bit more attack oriented, making it less versatile. This mode will be preferred as a counter in very specific match-ups where a right-spinning combination is required.
Overall, Astral Spriggan is at its best in left-spin with Quattro in defense or stamina mode. While this stock combination has average to decent attack potential, its real strength lies in its stamina potential.
When it comes to weaknesses, Astral Spriggan can display poor burst resistance. Furthermore, while Quattro can do it all in theory, its performances lack consistency.
How to Improve Astral Spriggan
FRIENDLY USE
As mentioned earlier, Astral Spriggan Over Quattro-0 is a very strong stock combination, so improving it may not even be needed in a friendly environment. Furthermore, only two of its components are not considered as competitive : the Spriggan DB core and the Quattro Performance Tip.

Players who want to preserve Astral Spriggan Layer may want to upgrade the Quattro driver. Players who want to be faithful to the stock combination design may want to use its successor Quattro' for increased burst resistance.

Players willing to change the Performance Tip completely may look at balance type or stamina type drivers. Unite' can be a decent choice, but the stronger option is probably a good stamina driver. High Xtend+', Bearing' will highly increase Astral Spriggan stamina. Bearing Drift is another option but it could be considered as overpowered in a friendly, non-competitive environment, ruining the balance of the rock/paper/scissors nature of the game.

If burst-resistance issues are encountered, even after a Performance Tip upgrade, then you may want to look at a different DB core, and replace Spriggan with Spriggan 2 for dual-spin, Fafnir, Longinus, or Bahamut for left-spin.
COMPETITIVE USE
Astral Spriggan Over Quattro-0 features three competitive parts which have great synergy : the Astral blade, the Over forge disc and the 0 armor. Those three parts combined together can be used to create a competitive stamina combination.

Upgrading the driver and the DB core are priorities : Longinus or Bahamut are the most popular choices when it comes to left-spin stamina combinations. When it comes to the Performance Tip, High Xtend+', Bearing', Bearing Drift are all top tier stamina drivers, Drift being another option for opposite-spin battles.
Final Thoughts on Astral Spriggan
Astral Spriggan Over Quattro-0 is one of the strongest stock combinations in the Dynamite Battle system. Featuring three competitive components, Astral Spriggan is a must-have for competitive and non-competitive players alike.
Below you'll find the list of all the components from this product with a link to their detailed description.
LIST OF BEYBLADE COMPONENTS