SYSTEM : DYNAMITE BATTLE
PRODUCT CODE : B-191
TYPE : STAMINA
COMPONENT : PERFORMANCE TIP
WEIGHT : Approx. 6,4 g
RELEASE DATE : October 9th, 2021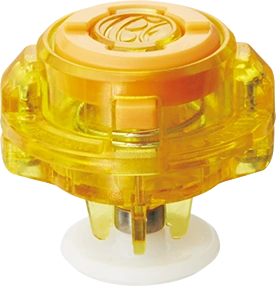 Description of Bearing'
Bearing' is the "dash" version of the Bearing performance tip. You can see our complete article on the Bearing driver here. The dash version of a driver has a stronger spring, increasing burst resistance significantly.

The "dash" version of Bearing is a very important upgrade. The original Bearing driver has poor burst resistance, making it useless in the modern systems such as Superking, Dynamite Battle and Burst Ultimate because of how hard the Beyblades can hit with their increased size and weight.

Furthermore, the spring of the original Bearing is so weak that this "dash" upgrade simply makes Bearing' equal to other standard, non "dash" performance tips. Therefore, Bearing' still has poor burst resistance compared to other drivers, but it remains a popular choice in the meta-game, especially in opposite-spin battles.
Final Thoughts on Bearing'
Bearing' features the same attributes as Bearing : great stamina potential, but poor knock-out and burst resistance (check our complete article on Bearing here for more details). With increased burst resistance compared to its predecessor, this driver is a must have in any player's collection.
List of Beyblade Products
You can find the Bearing' performance tip in the following products :