SYSTEM : DYNAMITE BATTLE
PRODUCT CODE : B-191
TYPE : DEFENSE
SPIN DIRECTION : RIGHT SPIN
WEIGHT : Approx. 73,9 g
RELEASE DATE : October 9th, 2021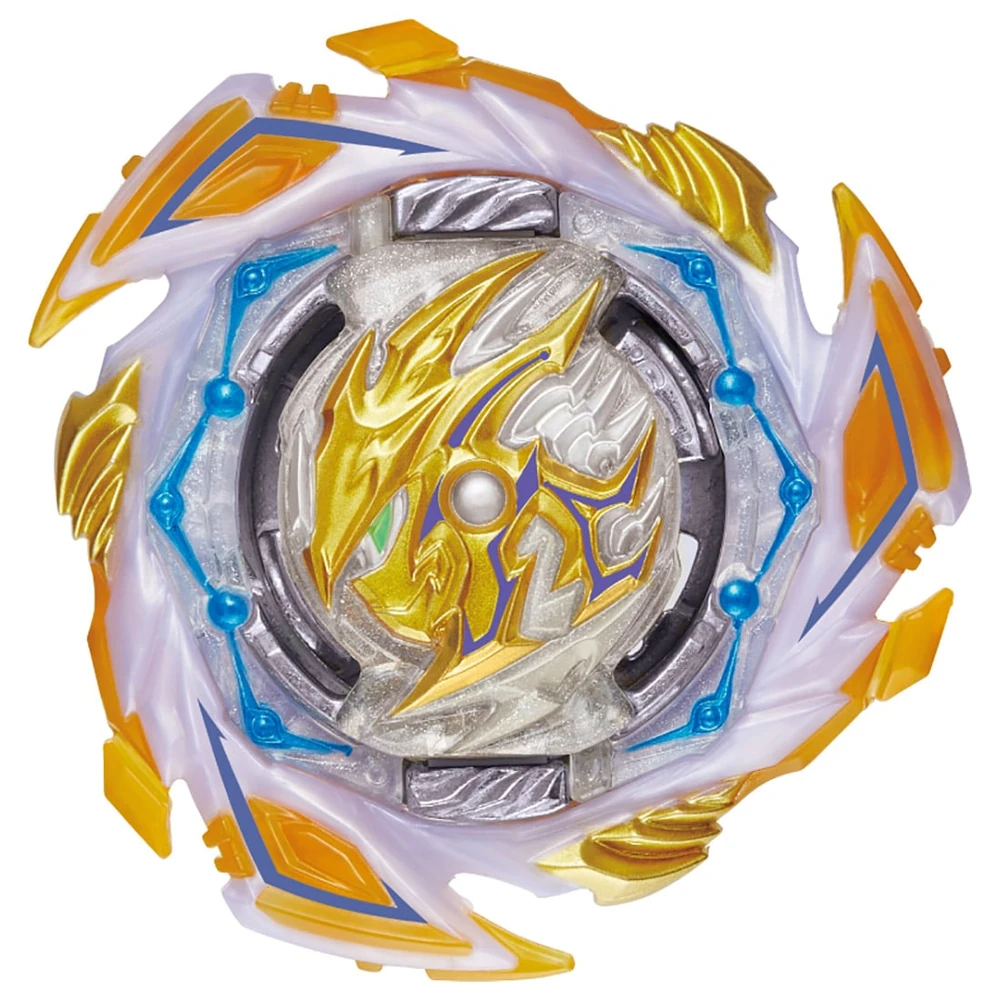 Avoid counterfeits ! You can find the authentic Savior Perseus Giga Bearing'-3 by Takara Tomy on BEYBLADE TOYS
Description of Savior Perseus
Savior Perseus Giga Bearing'-3 is a right-spin stamina type combination, featuring several top-tier components.

The stock combination behaves like a typical stamina type, aiming to sit in the center area of the stadium and out spin its opponent. The Savior blade having high recoil, Savior Perseus is a double edged sword. On one hand it can repel the opponent with force, on the other hand the high recoil of this blade combined with the attributes of Bearing' can result in poor knock-out and burst resistance.

Coming in the Overdrive Special Starter Set, what is great about Savior Perseus is that it preserves the rock/paper/scissors nature of the game because it does have the typical attributes of a stamina Beyblade. Prominence Phoenix is also a pure defense type combo, while Dangerous Belial can be an average attack/balance combination, as long as you have a F Gear at your disposal. Furthermore, Savior Perseus is assembled with top-tier components that you will be able to use to create competitive combinations. This selection of Beyblades and the top-tier components available are making the Overdrive Special Starter Set a great starter set.

Savior Perseus Giga Bearing'-3 is a pretty strong stock combination, capable of dealing with many types of combos. Bearing' makes the combination shine in opposite-spin battles mostly, but its high stamina can make the combo relevant in some same-spin battles. However, due to the Savior blade and Bearing' poor knock-out resistance, this stock combination suffered from many knock-outs in battles that Perseus would have dominated otherwise. Furthermore, this Beyblade suffered from 6 consecutive bursts finishes against right-spin attack combinations, something you just don't see that often in the Dynamite Battle system.
How to Improve Savior Perseus
FRIENDLY USE
In a non-competitive environment, the Savior Perseus Giga Bearing'-3 combination is good enough to play against other average to good Beyblades. However, if you want to play it as a stamina combo, you can replace the "3" armor to increase the stamina potential. There are many options : "2", "10", "0", or "6" can all be used instead of "3", the latter being more attack oriented. If you are suffering from too many burst finishes, then you may have to replace Bearing' with another stamina driver with better burst resistance, such as Bearing Drift or High Xtend+' ; Bearing Drift may be overpowered in a balanced, non-competitive environment.

Another way to increase burst resistance is to replace the Perseus DB core with Belial 2 or Kerbeus, the former featuring the "Burst Lock" gimmick and the latter having great burst resistance thanks to its rubber lock system.
Turning Savior Perseus in an attack type combination
With quality components such as the Savior blade,the Perseus DB core, and the Giga forge disc, you can also decide to turn this Beyblade in an attack type combination. If you wish to do so, you just have to replace Bearing' with the attack type performance tip of your choice, depending on which ones you have at your disposal. The popular Xtreme' is a great rubber driver, but in a friendly environment plastic tips will be just fine. You can pick a Destroy', Accel', or you could even try Almight since it comes in the Overdrive Special Starter Set.

Almight unpredictable behavior and the hard launches required to trigger its gimmick can result in Savior Perseus bursting. If you want to experiment with Savior and Almight, you may want to replace Perseus with Belial 2 (also included in the Overdrive Special Starter Set), so you can benefit from the very useful "Burst Lock" gimmick of the latter.

Next, if you have the "9" armor at your disposal, you can replace "3" with "9", doing essentially the same thing, only better.
COMPETITIVE USE
The "3" armor is all right, but it is outclassed by "9", making it the only non top-tier component of the Savior Perseus Giga Bearing'-3 stock combination. Perseus heavy weight and good burst resistance make it a versatile DB core, usable in any type of right-spin competitive combination. Perseus is one of the most popular DB cores in competitive right-spin stamina combinations, but its heavy weight is a great attribute to increase K.O. and burst potential of attack type combos.

The same goes for Giga, also top-tier and highly versatile. Bearing' is one the most popular performance tips in the meta-game for stamina combinations, along with drivers such as Bearing Drift, Drift, Zone', and High Xtend+'.

Savior is also a top-tier right-spin attack type blade, requiring a DB core with high burst resistance due to its high recoil. Belial 2 and Kerbeus can do nicely if you want to use a Savior based attack combination.
Final Thoughts on Savior Perseus
Savior Perseus Giga Bearing'-3 is a combination of top-tier competitive components, and is also the only way to put your hands on the Bearing' performance tip, making it a must-have in any player's collection.
LIST OF BEYBLADE COMPONENTS