SYSTEM : DYNAMITE BATTLE
PRODUCT CODE : B-191
COMPONENT : CORE
SPIN DIRECTION : RIGHT SPIN
WEIGHT : Approx. 8 g
RELEASE DATE : October 9th, 2021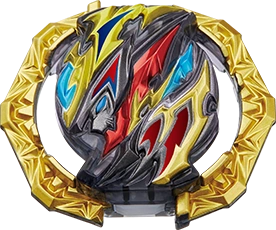 Description of the Belial 2 DB core
Belial 2 is a right-spin DB core featuring a "Burst Lock" gimmick, part of the "Overdrive system". If the Beyblade is launched hard enough, the centrifugal force activates a "Burst Lock" tab located under this DB core.

This "Burst Lock" prevents the forge disc from moving, stopping it just before the last click ; this system quite simply prevents the combination from bursting. This gimmick is more or less difficult to trigger depending on the copy at your disposal. We were able to compare two different Belial 2 DB cores ; one was really hard to trigger while the other could activate its burst lock with relative ease and consistency.

Belial 2 also has very good stamina potential, making it a great choice in stamina combinations. The amount of power required to trigger the "Burst Lock" gimmick can make an attack combo hard to control. However, with more stable stamina combinations, you can launch the Belial 2 combo at full strength without fear of bursting.
Belial 2 has two different molds
There are two different molds to the Belial 2 DB core. The first one was released in the B-191 Overdrive Special Starter Set, and is just as we described. Then a second version of the mold was released with the B-197 Divine Belial Nexus Adventure-3 booster.

The second mold features a stronger Burst Lock, and a new Burst Ultimate gimmick, the "BU Lock". When used with BU Lock compatible forge discs such as Moon and Xanthus, raised protrusions on the forge disc tabs lock into two grooves on the DB Core. This results in increased Burst Resistance, but you may have to launch the Beyblade even harder to trigger the "Burst Lock" gimmick, depending on the copy you have.

The second mold of Belial 2 can also be found in Overdrive Special Starter Set produced from April 2022 onward. If you want to make sure which mold you will have, look or ask for the serial number. Check our Beyblade Burst Counterfeits article to know how to read Takara Tomy serial numbers.
Final Thoughts on the Belial 2 DB Core
Belial 2, no matter which mold you have, has incredible burst resistance and very good stamina potential, making it a top-tier component in the meta-game. A must-have in any player's collection.
List of Beyblade Products
You can find the Belial 2 DB core in the following products :