SYSTEM : DYNAMITE BATTLE
PRODUCT CODE : B-191
TYPE : ATTACK
SPIN DIRECTION : RIGHT SPIN
WEIGHT : Approx. 69,4 g
OWNER : BEL DAIZORA
RELEASE DATE : October 9th, 2021
Hasbro Ver. : Devastate Evo Belfyre B7 Ciquex-Q Almight-Q+Almight-2.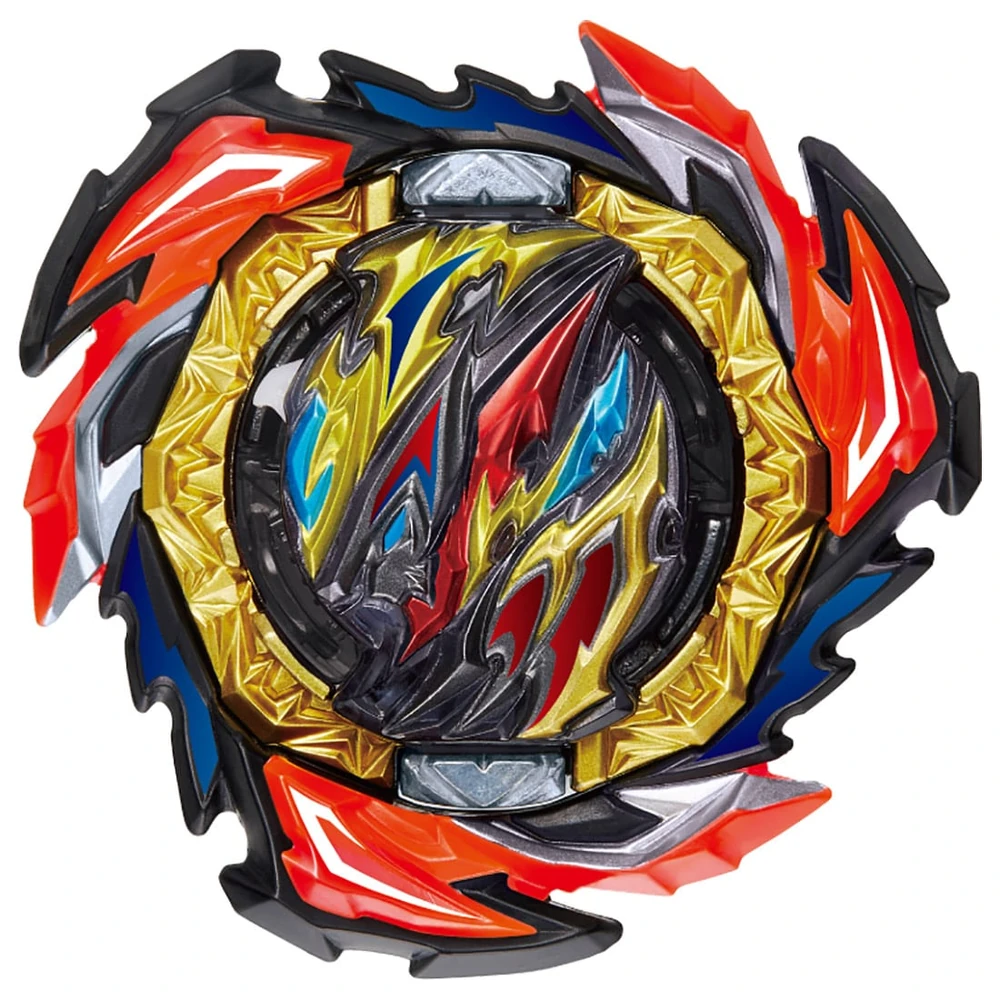 Avoid counterfeits ! You can find the authentic Dangerous Belial Almight-2 by Takara Tomy on BEYBLADE TOYS
Description of Dangerous Belial Almight-2
Released with the Overdrive Special Starter Set on October 9th, 2021, Dangerous Belial Almight-2 is a right-spin attack type combination. It is the successor to Dynamite Belial Nexus Venture-2. This Beyblade can be upgraded with "Evolution Gears", special components that you collect by purchasing other models from the Dynamite Battle system. With all the gears collected, players will be able to assemble "Perfect Dangerous Belial".

Dangerous Belial features two gimmicks. The first one is the "Overdrive system". If the Beyblade is launched hard enough, the centrifugal force activates a "Burst Lock" tab located under the Belial 2 DB core. This "Burst Lock" prevents the forge disc from moving, stopping it just before the last click. This system quite simply prevents the combination from bursting. This gimmick is more or less difficult to trigger depending on the copy at your disposal. Some copies are really hard to trigger while others can activate their burst lock with relative ease and consistency.

The second gimmick, also part of the "Overdrive system" is located on the Almight performance tip. When launched with (a lot) of power, a spring mechanism will allow the tip of Almight to go back inside the driver, making the contact surface wider and flat. This creates a sudden, brutal and unpredictable acceleration of the combination, reminiscent of Reboot and Ultimate Reboot, only far more extreme than those two.

On the stock Dangerous Belial Almight-2 combination, this gimmick is really hard to trigger. Again, we had two copies at our disposal, and both require ridiculous amount of launch power to activate. Therefore, players may want to use the Full Custom Beylauncher LR to launch with force. However, even with this powerful launcher, it will be nearly impossible for children to activate this gimmick.

Is Dangerous Belial a real attack type Beyblade ?
With Dynamite Belial Nexus Venture-2 turning out to be a must-have for top-tier stamina combinations, hopes were high to finally see a real attack minded Belial Beyblade. Is Dangerous Belial a real attack-type combo ? The short answer is yes, let's see why.

With Almight "normal mode", Dangerous Belial behaves like an attack type Beyblade, moving in circles around the tornado ridge when flat launched and able to move in a semi flower-pattern when using the banking shoot technique. If Almight goes in "Overdrive mode", it is highly probable Dangerous Belial will hit every single wall of the stadium in quick succession, losing huge amounts of stamina in the process.

The reason for that is the ridiculous amount of power needed to trigger the gimmick, making the combination very hard to control, even in the larger DB Standard stadium. Therefore, this Beyblade may often move in very chaotic circles around the stadium, hitting walls or a pocket, even with the "Overdrive System" not activated.

On the other hand, this Beyblade can deliver a few spectacular burst finishes and knock-outs when Almight's gimmick is triggered right at the start of the battle, just before the first strike. This shows that the acceleration caused by the "overdrive mode" does increase attack potential in a spectacular manner. In the Dangerous Belial Almigh-2 stock combination, Almight overdrive mode is not bad, just not reliable and consistent enough. Overall, the safest choice is to find a good angle and have the best possible attack movement pattern.

While this Beyblade has mobility, it lacks smash attack power. Like its predecessor Dynamite, Dangerous is compatible with both F Gear and L Gear. There lies the real issue with the Dangerous blade : there are gaps under each contact point, in order to leave the required space for the F Gear. Those gaps are severely undermining the attack potential of this Beyblade.

Therefore, while Dangerous Belial Almight-2 displays a decent attack-type behavior, its smash attack potential is poor. However, it is possible to improve this Beyblade attack potential.
How to improve Dangerous Belial Almight-2
FRIENDLY USE
F Gear is mandatory on Dangerous Belial
The top priority to make Dangerous Belial relevant in a friendly environment would be to assemble the F Gear. This Evolution Gear fills the gaps on the Dangerous blade contact points, and it does not harm its smash attack potential.

In fact, it improves it so much it makes F Gear mandatory to make the Dangerous blade work, even as a pure attack type component. With F Gear assembled, this stock combination can be considered as an attack type Beyblade.

In our test battles against a selection of average to good combinations, Dangerous Belial Almight-2 went from a 0% win ratio without F Gear to a 80% win ratio with F Gear. With F Gear, Belial was able to get knock-outs and even burst finishes, proving that F Gear fills the contact points gaps without decreasing smash attack potential.
Replacing the "2" Armor
Some synergy can be created by replacing the "2" armor with "3" or "9". "2" is a very good armor, but "3" and "9" can increase the attack potential of this Beyblade by adding weight at each contact point of the Dangerous blade.

Next, in order to preserve Dangerous Belial identity, two options can be recommended : going the "Perfect Evoluion Gears" route, or replacing the Performance Tip and adding a new Forge Disc. Almight comes with an integrated disc, so replacing it means players will have to pick a new Forge Disc as well.
Adding Perfect Evolution Gears to Dangerous Belial
In order to preserve the stock combination, then nice upgrades are available thanks to the Evolution Gears. L Gear is not a priority if High Mode is not required. The contact points of Dangerous being fairly high, this blade doesn't seem to work that well in High Mode. That leaves players with V Gear and S Gear, both compatible with Almight.

V Gear may help maintaining speed when making contact with the stadium floor, and it will definitely add LAD (Life After Death) potential to the combination.

It is recommended to assemble S gear in fixed mode to help increasing overall attack potential.
Replacing Almight
If players don't feel comfortable with Almight and want to preserve Belial identity, then replacing it with Venture or Venture + V Gear is an option. Alternatively, the Adventure driver can be used, and it can be combined with V Gear or VS Gear.

Dangerous Belial coming in the the Overdrive Special Starter Set, Giga can be the Forge Disc choice. If players have more Forge Discs at your disposal, then Fortress and Illegal can be good options.
COMPETITIVE USE
This Beyblade features two components that can find use in a competitive environment : the "2" armor and the Belial 2 DB core. Both are versatile, they can be used in any type of combinations. "2" is usually preferred in stamina combinations, but it can also create synergy with the Guilty blade.

Belial 2 has great burst resistance thanks to the "Burst Lock" system, and it also has decent stamina.
Final Thoughts on Dangerous Belial
Dangerous Belial Almight-2 can feel like a disappointing successor to Dynamite Belial, but that doesn't mean it is useless. It is still an opportunity to have a versatile Belial 2 DB core and a "2" armor, and all it needs to become enjoyable is the F Gear. Equipped with the latter, Dangerous Belial remains the only model in the Belial line (Dynamite, Dangerous, Divine) that can be relevant (not top-tier) as an attack oriented combination. Furthermore, it is also the only way to get the fun (yet not competitive) Almight driver.

As such, this Beyblade is not a must-have, but it can be a great addition to a Beyblade collection if players have a F Gear at their disposal.

Below you'll find the list of all the components from this product with a link to their detailed description.
LIST OF BEYBLADE COMPONENTS