SYSTEM : BURST ULTIMATE
PRODUCT CODE : B-197
TYPE : ATTACK
COMPONENT : PERFORMANCE TIP
WEIGHT : Approx. 8,1 g
RELEASE DATE : April 23rd, 2022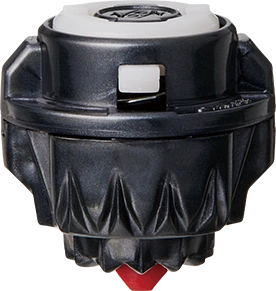 Description of Adventure
First released with B-197 Divine Belial Nexus Adventure-3 Booster as part of the Burst Ultimate system on April 23rd, 2022, Adventure is an attack type Performance Tip featuring a flat plastic tip located between two retractable rubber "claws".

The plastic tip, very similar to the one found on Venture, creates aggressive movement, and the rubber protrusions will create accelerations when the combination is tilting. Due to the fact those rubber claws can retract, the rubber friction is limited, making the combination behavior less predictable and slightly harder to control.

In a non competitive environment, the Adventure driver can be used to create attack type combinations in the DB standard stadium.
Perfect and Ultimate Evolution Gears
Furthermore, this Performance Tip can be combined with V Gear or VS Gear. When one of those evolution gears is assembled, both rubber claws are retracted and cannot make contact with the stadium floor anymore.

Additionally, both Gears will compress the spring, increasing the driver's burst-resistance. Furthermore, V Gear and VS Gear will increase weight and LAD significantly.
Final Thoughts on the Adventure driver
The Adventure driver is not a top-tier component, but it is an interesting driver to play and experiment with in a non-competitive environment. Therefore, this Performance Tip is not a must-have for competitive players, but it can be a nice addition in a player's collection.
List of Beyblade Products
You can find the Adventure performance tip in the following products :
B-204 BU All-In-One Battle Set : Divine Belial Nexus Adventure-6