SYSTEM : BURST ULTIMATE
PRODUCT CODE : B-197
COMPONENT : BLADE
SPIN DIRECTION : RIGHT SPIN
WEIGHT : Approx. 9,3 g
RELEASE DATE : April 23rd, 2022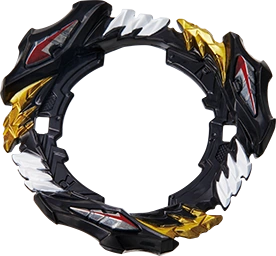 Description of the Divine blade
Divine is a right-spin attack type blade featuring a three-sided shape, released with the B-197 Divine Belial Nexus Adventure-3 Booster as part of the Burst Ultimate system on April 23rd, 2022.
This Blade suffers from the same issue as its predecessor, Dangerous. There are gaps under all main contact points, meant to accommodate the F Gear or A Gear. Those gaps result in a loss of weight, and quite elevated contact points. Therefore, Divine looks like an incomplete blade, the F Gear or A Gear being mandatory to make it relevant. With a lack of weight and huge gaps under the contact points, Dangerous is pretty useless without F Gear or A Gear : it doesn't have attack nor stamina potential, and the gaps can be exploited by the opponent's layer to destabilize the Divine combination. Out of the box, the Divine blade can be disappointing.
Divine Gimmick
This Blade features a gimmick : metal is incorporated into each of the contact points, increasing weight. However, even with the addition of A Gear, those contact points are too short and lack aggressiveness in their design to have decent attack power. Furthermore, this Blade is lighter than its predecessor in spite of the addition of metal parts.
Ultimate Evolution Gears
F Gear fills the gaps under each contact point entirely, and it creates spin-equalization potential. A Gear is also compatible with this Blade, and is best used in attack mode. A Gear does not fill the gaps under the contact points entirely, but it slightly increases the Blade's attack potential. Additionally, this Blade is compatible with the H Gear.
Final Thoughts on the Divine blade
The Divine Blade fails to deliver any strong attribute : it lacks in smash attack power and stamina potential, making it the weakest Belial Blade in the line. However, its performances can be slightly increased by using A Gear or F Gear and H Gear.

Therefore, Divine is not a must-have for competitive players, but it can be a nice addition to any player's collection.
List of Beyblade Products
You can find the Divine blade in the following products :
B-203 Ultimate Fusion DX Set : Divine Belial Nexus Bearing Drift (comes with H Gear)
B-204 BU All-In-One Battle Set : Divine Belial Nexus Adventure-6
B-00 Divine Belial-3 (Oha Suta Ver.)