SYSTEM : BURST ULTIMATE
PRODUCT CODE : B-203
COMPONENT : ULTIMATE EVOLUTION GEAR
WEIGHT : Approx. 15,2 g
RELEASE DATE :  October 8th, 2022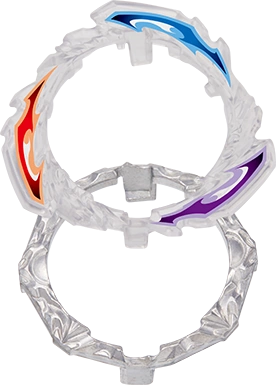 Description of H Gear
H Gear, released with the B-203 Ultimate Fusion DX Set as part of the Burst Ultimate system, is an Ultimate Evolution Gear compatible with the Divine Blade.

This accessory is inspired by the Hyperion, Helios and Lucifer lines of Beyblades. Their colors (red, blue and purple) can be seen on the plastic armor of H Gear.

H Gear is made of two parts ; a metal armor (11,5 g.) and a plastic armor (3,7 g.). The Low/High mode of the Beyblade is determined by the placement of the metal armor.

In Low Mode, the plastic Armor part adds three blades to the Divine Blade. In High Mode, the Disc is obstructed by nubs on the plastic Armor, creating resistance and increasing burst resistance.

List of Beyblade Products
You can find the H Gear in the following products :
B-203 Ultimate Fusion DX Set