SYSTEM : BURST ULTIMATE
PRODUCT CODE : B-199
COMPONENT : ULTIMATE EVOLUTION GEAR
WEIGHT : Approx. 4 g
RELEASE DATE : June 25th, 2022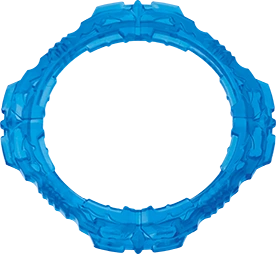 Description of D Gear
Released with the B-199 Gatling Dragon Karma Charge Metal'-10 Booster as part of the Burst Ultimate system on June 25th, 2022 D Gear is an Ultimate Evolution Gear compatible with the Nexus Forge Disc and the Almight integrated Disc.

Inspired by the "Dragon" line of Beyblades, D Gear features a gimmick reminiscent of the Sting Forge Disc. This accessory is a sliding blade which in theory will repel opponent's attacks when struck.

D Gear adds 4 grams to any Disc it is attached to, making Nexus one of the heaviest Forge Discs available.

In a competitive environment, S Gear is a more popular choice, but D Gear remains a viable option and a welcome upgrade nonetheless.
List of Beyblade Products
You can find the D Gear in the following products :