SYSTEM : DYNAMITE BATTLE
PRODUCT CODE : B-180
COMPONENT : FORGE DISC
WEIGHT : Approx. 31 g
RELEASE DATE : April 24th, 2021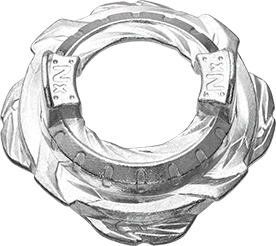 Description of Nexus
First released with the B-180 Dynamite Belial Nexus Venture-2 Booster on April 24th, 2021, Nexus is a Forge Disc from the Dynamite Battle system.

This Forge Disc features eight blades divided among an upper and a lower section, compatible with two different Evolution Gears : S Gear and D Gear.

Without any gear equipped, Nexus's shape and its eight blades is better in attack combinations, and it can do a decent job in any other type of combo, while not being a top-tier competitive part.

Thankfully, Nexus can be upgraded with the S Gear in two different modes : fixed (better for attack) or free-spinning (better for stamina, more specifically spin equalizing combos). Furthermore, S Gear also adds weight to Nexus, making it the heaviest forge disc in the Dynamite Battle and Burst Ultimate systems. See the complete article on S Gear here.

Nexus can also be upgraded with D Gear, well suited for both attack and stamina combinations. D Gear is not free-spinning, but it slides on Nexus, repelling the opponent's attacks. See the complete article on D Gear here.

Final Thoughts on Nexus
Overall, while Nexus alone is not a top tier competitive part, it is nonetheless a very solid attack forge disc, offering strong customization options such as S Gear and D Gear. Combined to a free spinning S Gear, Nexus becomes a top-tier, competitive component in opposite-spin battles.

Therefore, Nexus is a must have in any player's collection.
List of Beyblade Products
You can find the Nexus forge disc in the following products :
B-186-04 Random Booster Volume 26 : Dynamite Ragnaruk Nexus Just-6
B-203 Ultimate Fusion DX Set : Divine Belial Nexus Bearing Drift
B-204 BU All-In-One Battle Set : Divine Belial Nexus Adventure-6