SYSTEM : BURST ULTIMATE
PRODUCT CODE : B-197
TYPE : ATTACK
SPIN DIRECTION : RIGHT SPIN
WEIGHT : Approx. 69,5 g
OWNER : BEL DAIZORA
RELEASE DATE : April 23rd, 2022
Hasbro Version : Divine Evo Belfyre B8 Squadron-Q Guard-Q+Adventure-3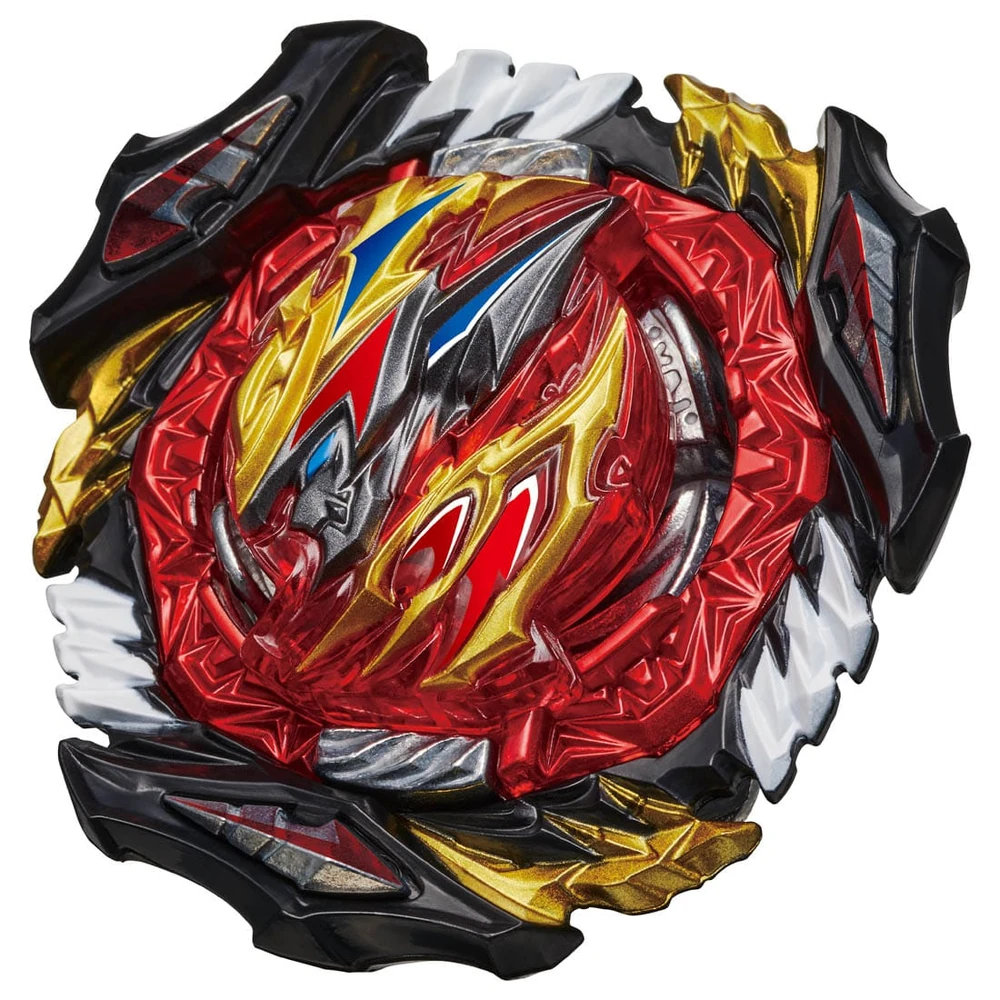 Avoid counterfeits ! You can find the authentic Divine Belial Nexus Adventure-3 by Takara Tomy on BEYBLADE TOYS
Description of Divine Belial Nexus Adventure-3
Divine Belial Nexus Adventure-3 is a right-spin attack type combination, released as part of the Burst Ultimate system on April 23rd, 2022. It is the successor to Dangerous Belial Almight-2. This model can be upgraded with "Perfect Evolution Gears" or "Ultimate Evolution Gears", special components that can be collected by purchasing other models from the Dynamite Battle and the Burst Ultimate systems. With all the gears collected, the "Perfect Divine Belial" and "Ultimate Divine Belial" can be assembled.

Divine Belial features a gimmick part of the "Overdrive system". If the Beyblade is launched hard enough, the centrifugal force activates a "Burst Lock" tab located under the Belial 2 DB core. This "Burst Lock" prevents the forge disc from moving, stopping it just before the last click. This system quite simply prevents the combination from bursting.
Behavior
This Beyblade has a fairly aggressive behavior, it can be launched flat or using a banked shot to create flower patterns. Its "Burst Lock" gimmick encourages the player to launch it with force and confidence without worrying about bursting. However, the Adventure driver can feel a bit unpredictable.
Performances
Unfortunately, this stock combination does not even feel like an upgrade to its predecessor Dangerous Belial Almight-2. The Divine Blade is designed to accommodate for the F Gear or the A gear, therefore, there are huge gaps under each main contact point of the Blade, making it useless when not combined with an Evolution Gear. The attack and stamina potential of the stock combination are both below average, resulting in this Beyblade being easily beaten any other regular release from the Dynamite Battle and Burst Ultimate systems.
How to improve Divine Belial Nexus Adventure-3
FRIENDLY USE
The priority to make Divine Belial relevant in a friendly environment would be to upgrade the Blade with the F Gear or the A Gear. Since the Ultimate Evolution Gears can only be used with Divine Belial, then it is a good opportunity to use A Gear in its "Attack mode". This upgrade will not be enough to turn Divine in a great attack Blade, but it can at least make it relevant in a friendly environment.

Then, upgrading or replacing the Nexus forge disc would be the next upgrade. D gear can be used to add extra weight to this forge disc. If this option is not available, then replacing this disc with a heavier one will upgrade the Beyblade's performances : Giga, Over are good options to replace Nexus.
The Adventure Performance Tip can be upgraded with the VS Gear for increased mobility and LAD.

Finally, the "3" armor may be replaced with the "9" armor for better results.
COMPETITIVE USE
This Beyblade features three components that can find use in a competitive environment : the "3" armor, the Belial 2 DB core and the Nexus forge disc.

"3" finds use in attack type combinations featuring three-sided designed Blades, such as Savior or Ultimate. It is outclassed by the "9" armor, but "3" is still a decent option nonetheless.

Belial 2 has great burst resistance thanks to the "Burst Lock" system, and it also has decent stamina. Therefore, it can be used in any attack/defense/stamina combinations which require more burst-resistance. It is worth noting that the Belial 2 DB Core mold that comes with this Beyblade is the best variant available.

The Nexus forge disc is also a top-tier component when combined to S Gear.
Final Thoughts on Divine Belial
Divine Belial Nexus Adventure-3 can feel like a disappointing successor to Dangerous Belial, but that doesn't mean it is useless. It is still an opportunity to have the best mold of the Belial 2 DB core, a Nexus forge disc and a nice "3" armor.

Overall, the use of A Gear on the Blade is mandatory, even in a friendly environment, and the Adventure driver, while not being top-tier, is a nice option to have in a Beyblade collection.

Therefore, this Beyblade is not necessarily a must have, except for players looking for a good mold of the Belial 2 DB Core. For others, this stock combination can be a nice addition in their collection.

Below you'll find the list of all the components from this product with a link to their detailed description.
List of Beyblade Components