SYSTEM : DYNAMITE BATTLE
PRODUCT CODE : B-188
COMPONENT : FORGE DISC
WEIGHT : Approx. 33,5 g
RELEASE DATE : August 7th, 2021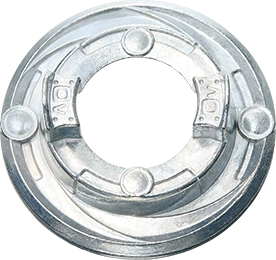 Description of Over
First released with the B-188 Astral Spriggan Customize Set as part of the Dynamite Battle system on August 7th, 2021, Over is a Forge Disc featuring a perfectly round shape and a smooth perimeter.

It is also one of the heaviest forge disc in the Dynamite Battle and Burst Ultimate systems. Due do its circular shape, Over has great OWD (Outward Weight Distribution), which is a great attribute for stamina performance.

The heavy weight of this Forge Disc makes it versatile, also making it viable in attack and defense combinations. The round and smooth perimeter creates high LAD (Life After Death), helping the combination to keep rolling at the end of the battle.

This Forge Disc is a versatile top-tier component, making it one of the best forge discs of the DB/BU era. Therefore, Over is a must-have in any player's collection.
List of Beyblade Products
You can find the Over Forge Disc in the following products :