SYSTEM : DYNAMITE BATTLE
PRODUCT CODE : B-188
TYPE : BALANCE
COMPONENT : PERFORMANCE TIP
WEIGHT : Approx. 10,7 g
RELEASE DATE : August 7th, 2021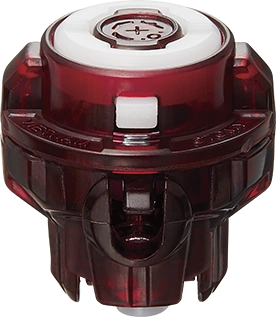 Description of Quattro
Quattro is a balance type performance tip, featuring four different tips.
Each tip is of a different type :
Stamina : a sharp, cone-shaped metal tip
Defense : a free-spinning metal ball surrounded by a plastic ring, similar to the Orbit Metal driver
Balance : a plastic tip surrounded by a rubber ring, similar to the Unite driver
Attack : a rubber tip, similar to the Xtreme driver design
In stamina mode, Quattro displays decent performances, but it can be destabilized due to the low friction of the sharp metal tip. In defense mode, again performances are decent, the free-spinning metal ball creating good defense and good stamina potential.

In balance mode, Quattro feels quite similar to Unite : with a banked shot, the rubber ring will make contact with the stadium floor, creating a flower-pattern to attack the opponent. However, this mode cannot maintain the flower-pattern for a long time. When launched with no angle, the plastic tip will make contact with the stadium floor, making the combination sit in the center of the arena, just like a stamina combo.

In attack mode, with the tip entirely covered by rubber, Quattro will display poor stamina and good aggressiveness. However, compared to many attack performance tips, this mode proves to be difficult to control. Furthermore, Quattro has poor burst resistance, making attack mode less reliable than the other three.
Final Thoughts
Allowing the player to switch between four different tips, Quattro does a great job as a balance driver, designed to counter any type of combination. The performances of each mode are good enough to make Quattro a great driver in a non-competitive environment. However, none of the available modes is good enough for a competitive environment, where better options will be available in any of the three main types : attack, defense and stamina.

Furthermore, Quattro has poor burst resistance, making it easily outclassed by its successor, Quattro'. Therefore, Quattro can be a great addition to your collection, but definitely not a must-have for competitive players.
List of Beyblade Products
You can find the Quattro performance tip in the following product :