SYSTEM : BURST
PRODUCT CODE : B-23
TYPE : ATTACK
COMPONENT : PERFORMANCE TIP
WEIGHT : Approx. 5,3 g
RELEASE DATE : December 26th, 2015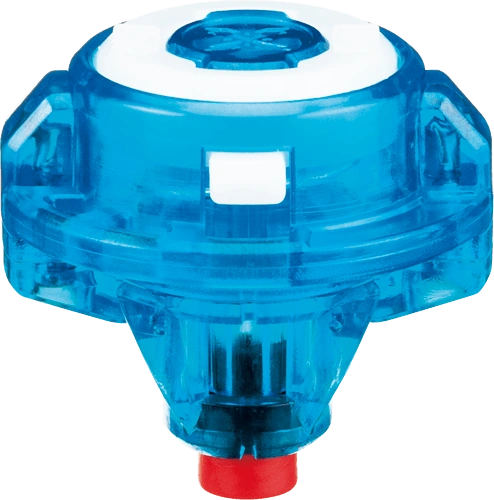 Description of Xtreme
First released in the B-23 Xcalibur Force Xtreme Starter as part of the Beyblade Burst system on December 26th, 2015, Xtreme is an attack type Performance Tip, featuring a flat rubber tip.

Released early in the Beyblade Burst generation, Xtreme is still regarded as the best attack driver available.

Rubber is a material used in Beyblade Burst to create high friction, allowing very fast and aggressive movements. With Xtreme and its flat shape, rubber not only allows agressive movements, it also helps maintaining the flower-pattern, making banked shots more effective.

The downside of rubber tips is the lack of stamina : the more aggressiveness, the less stamina is the trade-off players are dealing with when choosing between plastic and rubber attack drivers. It's also worth noting that rubber drivers dedicated to the flower-pattern attacks such as Xtreme will struggle in the large DB stadium, an arena that requires more stamina from the combinations.

Another downside is the fact that Xtreme will wear over time, resulting in its performances dropping in a significant manner. Unfortunately, there is no benefit to Xtreme being worn : it will lose speed and aggressiveness and its stamina won't increase in return. Ultimately, you will need to replace Xtreme with a brand new copy, especially if you plan to join tournaments.

Finally, Xtreme is so fast and agressive that it can cause self-bursts, especially when assembled with early models from the Beyblade Burst generation. For this reason, we would suggest you to look at two upgraded versions of Xtreme : Xtreme' and Metal Xtreme.

Capable of strong attacks and easy to control, Xtreme remains a great attack type performance tip, only outclassed by its two upgrades : Xtreme' and Metal Xtreme.
List of Products
You can find the Xtreme performance tip in the following products :
B-23 Xcalibur Force Xtreme
B-46 Obelisk Odin Triple Xtreme
Xtreme also appeared in the following exclusive products :
B-00 Xcalibur Force Xtreme (WBBA Exclusive)
B-00 Xcalibur Force Xtreme (CoroCoro Exclusive)
B-00 Dragoon Storm Wing Xtreme (WBBA Exclusive)
B-00 Dragoon Storm Wing Xtreme (CoroCoro Exclusive)
B-00 Amaterios 7Meteor Xtreme (WBBA Exclusive)
B-00 Bakuten Shoot Beyblade 20th Anniversary Set : Dragoon Storm Wing Xtreme