SYSTEM : GATINKO
PRODUCT CODE : B-134
COMPONENT : FORGE DISC
WEIGHT : Approx. 28,5 g
RELEASE DATE : March 16th, 2019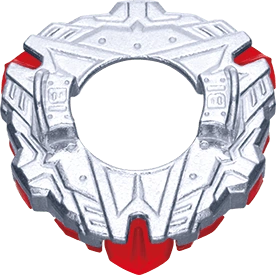 Description of Blitz
Blitz is a three sided forge disc, featuring a plastic part underneath the disc. This plastic part has three small protruding wings which will extend under the effect of centrifugal force. In theory, this is meant to increase OWD (Outward Weight Distribution). In reality, these small wings lack the required weight to have a significant impact on OWD.

Well balanced and heavy enough, Blitz used to be a great forge disc in the Gatinko system, especially in attack type combinations. The shape of the disc can create synergy with three sided attack layers, increasing the attack potential of the combination.

Therefore, Blitz is a must-have if you want to collect and play with models from the Gatinko system. However, we cannot recommended it to players engaged in the Superking, Dynamite Battle and Burst Ultimate systems.
List of Products
You can find the Blitz forge disc in the following products :
B-134 Slash Valkyrie Blitz Power Retsu
B-136 Beyblade Gatinko Battle Set : Slash Valkyrie Blitz Power Retsu
B-149 GT Triple Booster Set : Lord Spriggan Blitz Dimension'
B-188 Astral Spriggan Customize Set (Gold recolor)