SYSTEM : DYNAMITE BATTLE
PRODUCT CODE : B-189
TYPE : ATTACK
SPIN DIRECTION : LEFT SPIN
WEIGHT : Approx. 78,5 g
OWNER : LUI SHIROSAGI
RELEASE DATE : September 11th, 2021
Hasbro Version : Guilty Luinor L7 Karma-Q Guard-Q+Destroy-2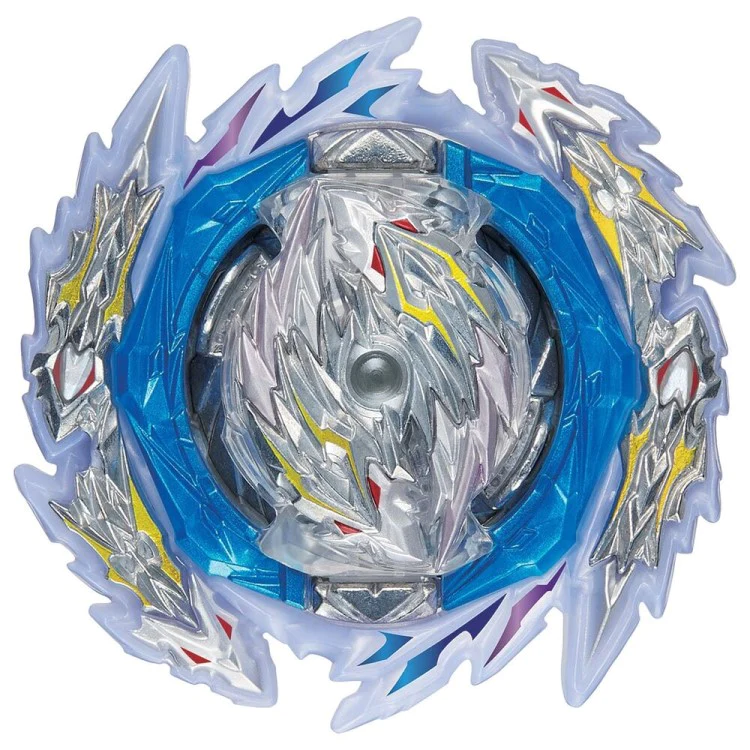 Avoid counterfeits ! You can find the authentic Guilty Longinus Karma Metal Destroy-2 by Takara Tomy on BEYBLADE TOYS
Description of Guilty Longinus
Guilty Longinus Karma Metal Destroy-2 is a left-spin attack type combination, featuring four blades which are sloping upwards. This design allows the combination to create both smash and upper attacks, resulting in spectacular battles.
Coming with the Metal Destroy performance tip, Guilty Longinus behaves like an attack combination but also displays decent stamina and LAD (Life After Death) due to the driver's design. However, we strongly recommend to check our article on Metal Destroy here, because of the unusual wear and damage metal drivers can cause to the layer's teeth.

Guilty Longinus Karma Metal Destroy-2 is quite simply the best attack type stock combination of the Dynamite Battle system. This combination has all the required attributes to be used in both standard and DB standard stadiums.
How to improve Guilty Longinus
FRIENDLY USE
If you already checked our article on Metal Destroy, then you know metal drivers can cause damage to the layer's teeth. Therefore, replacing the performance tip may be your first priority. However, the Longinus DB core features teeth intended to safely use a metal lock driver, but the players have mixed opinion on this topic.

If you don't want to take risks, and if you like the stock combination and the attributes of the Metal Destroy driver, then you could pick the Destroy' performance tip from the B-168 Rage Longinus Destroy' 3A booster. That would allow you to keep the Longinus color theme, while still having good burst resistance. If you want to push the combination to a competitive level, then you can pick a rubber driver such as Quick' or Xtreme'.

If you are playing in the DB standard stadium, then Xtreme' and Quick' will be useless. You'll need to pick a plastic performance tip, such as Destroy', Xplosion' or Accel' to increase the combination's stamina. You can even try to experiment with driver capable of good stamina and movement, such as Zone' or Universe.

Now we can look at the Karma forge disc and replace it with heavier, stronger discs such as Giga, Tapered, Illegal or Fortress. If you want to keep Guilty Longinus layer's untouched, then those two upgrades should be enough to make the combination even stronger. The Longinus DB core is very good anyway, and the 2 armor creates synergy with the Guilty blade, making it a good choice.
COMPETITIVE USE
In a competitive environment, we have several components that can find use in different types of combinations.

First is the Guilty blade, quite simply the best attack type blade in the DB/BU systems. As mentioned above, it can be combined with the 2 armor and a forge disc with good OWD (Outward Weight Distribution), such as Giga, Illegal, or Fortress. Xtreme' is probably the best performance tip to make a strong attack type combination.

Finally, Bahamut is a great choice as a DB core because of its high burst resistance. Since Bahamut can be hard to get, you can use Fafnir or Longinus instead. Therefore, your competitive attack type combination could be something like : Guilty Bahamut Giga Xtreme'-2.

The Longinus DB core is also a competitive component, usually preferred in stamina combinations because of its heavy weight.
The 2 armor can be used in any type of competitive combination, it has good weight and good balance.
Final Thoughts on Guilty Longinus
Guilty Longinus Karma Metal Destroy-2 is the best attack type stock combination in the DB/BU systems. Coming with several top-tier components and the L Gear, Guilty Longinus is a must-have in any player's collection.
Below you'll find the list of all the components from this product with a link to their detailed description.
LIST OF BEYBLADE COMPONENTS