SYSTEM : DYNAMITE BATTLE
PRODUCT CODE : B-189
COMPONENT : DB CORE
SPIN DIRECTION : LEFT SPIN
WEIGHT : Approx. 10,1 g
RELEASE DATE : September 11th, 2021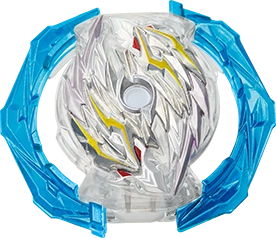 Description of the Longinus DB Core
First released with the B-189 Guilty Longinus Karma Metal Destroy-2 Booster as part of the Dynamite Battle system on September 11th, 2021, Longinus is a left-spin DB core.

This DB Core features two metal dragon heads and three locks. The two metal dragon heads add significant weight, making it the heaviest left-spin DB core. This heavy weight creates high inertia, resulting in an increased knock-out and burst potential, especially when combined to the Guilty blade.

The heavy weight of this DB core can also be used to increase the stamina potential of a left-spin stamina combination. Longinus also has good burst resistance, because one of its locks is bigger, creating more resistance to prevent the combination from bursting. However, Bahamut has a better burst resistance thanks to its "Rubber Lock" gimmick.
Final Thoughts
Longinus is a highly competitive and versatile DB Core, viable in any type of combination. It remains one of the best left-spin DB Cores available in the Dynamite Battle and Burst Ultimate systems.

Therefore, Longinus is a must-have in any player's collection.
List of Beyblade Products
You can find the Longinus DB core in the following products :