SYSTEM : DYNAMITE BATTLE
PRODUCT CODE : B-186-01
COMPONENT : CORE
SPIN DIRECTION : LEFT SPIN
WEIGHT : Approx. 7,8 g
RELEASE DATE : June 26th, 2021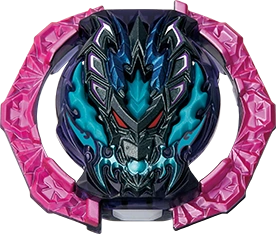 Description of the Bahamut DB Core
Bahamut is a left-spin DB core, featuring two rubber slopes instead of the usual locks. It also has a very effective gimmick : the Rubber Lock, designed for increased burst resistance. The Rubber Lock gimmick consists of 3 rubber protrusions : one in the center of the core, and one on each side of the core. The friction caused by those rubber protrusions make it harder for the lock to progress, thus highly increasing burst resistance.

It is also worth noting that this rubber lock makes Bahamut compatible with two Burst Ultimate forge discs, Xanthus and Moon, which are both featuring raised protrusions, part of the "BU Lock" gimmick.

Bahamut is the left-spin DB core with the highest burst resistance in the DB/BU systems. In a competitive environment, players will typically choose Bahamut or/and Longinus as their go to DB core. Bahamut is preferred for burst resistance, while Longinus is preferred for its heavier weight and increased stamina. Therefore, Bahamut is a must-have for competitive players and non competitive players alike.
List of Beyblade Products
The Bahamut DB core can be found in the following products :