SYSTEM : DYNAMITE BATTLE
PRODUCT CODE : B-189
COMPONENT : BLADE
SPIN DIRECTION : LEFT SPIN
WEIGHT : Approx. 17,1 g
RELEASE DATE : September 11th, 2021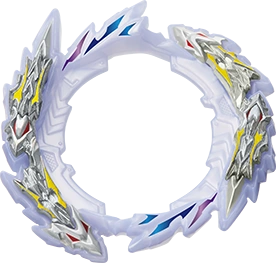 Description of Guilty
First released with the B-189 Guilty Longinus Karma Metal Destroy-2 Booster as part of the Dynamite Battle system on September 11th, 2021, Guilty is a left-spin attack type blade.

Guilty features four blades which are sloping upwards. This design allows the combination to create both smash and upper attacks, resulting in spectacular battles. This Blade's smash attacks are strong, and the upper attack potential can destabilize the opposing Beyblade.

While Guilty is made of plastic, all four dragon heads on top of the blade are made of metal. Furthermore, there are two additional metal dragon heads located under the blade, making Guilty the heaviest blade of the Dynamite Battle system. This added weight on the edge of the blade highly increases OWD (Outward Weight Distribution) and attack potential, making Guilty the strongest attack blade in the DB/BU systems.

Guilty has a very aggressive shape, impressive size, and a brilliant weight distribution thanks to the added metal heads, but the heavy weight of the blade can make it hard to control. Therefore, the usual top-tier rubber attack performance tips are recommended : Xtreme' or Quick' are the best options to maintain a nice controlled flower-pattern. However, you'll need to switch to plastic performance tips if you play in the DB standard stadium. Destroy', Xplosion' or Accel' can all be used in the DB standard arena, but players can try to experiment with drivers featuring good stamina and mobility, such as High Hold', Zone' or Universe.

Due to the heavy-weight of a combination using Guilty, players need to pick a Performance Tip they feel comfortable with so they can have better control over the combo.

Final Thoughts
Guilty is one of the best attack blades in the Dynamite Battle and Burst Ultimate systems, it is a must have in any player's collection.
List of Beyblade Products
You can find the Guilty blade in the following products :