SYSTEM : SUPERKING
PRODUCT CODE : B-164-01
TYPE : DEFENSE
COMPONENT : PERFORMANCE TIP
WEIGHT : Approx. 8,8 g
RELEASE DATE : April 25th, 2020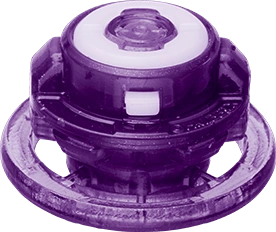 Description of Universe
Released in the Superking system with the B-164 Random Booster Volume 20, Universe made its first appearance in the Prize Beyblade Curse Satan Hurricane Universe 1D.
Universe is a defense type performance tip featuring a wide, free-spinning, ball-shaped plastic tip sitting under a free-spinning plastic ring.

The wide free-spinning tip creates movement, but if launched too hard, it can become difficult to control. However, Universe can be hard launched in the DB standard stadium with no issues. This wide ball-shaped tip also creates a lot of friction on the stadium floor, making the combination more difficult to knock-out.

Furthermore, the free-spinning outer plastic ring has two primary functions : first it can help the combination to re-stabilize itself when knocked off balance, without losing too much stamina thanks to the free-spinning nature of the ring. The free-spinning ring can also act as a brake when the combination is struck hard to avoid knock-outs.
Final Thoughts on Universe
Universe displays decent levels of stamina, and it has great defense potential, making it a good driver with a real defense type identity. Furthermore, Universe can be put to good use in attack combinations when playing in the DB standard stadium. As such, Universe is not necessarily a must-have for competitive minded players, but it is a great addition in any player's collection.
List of Beyblade Products
You can find the Universe performance tip in the following products :
B-164-01 Random Booster Volume 20 : Curse Satan Hurricane Universe 1D
B-164-05 Random Booster Volume 20 : Naked Bahamut 10 Universe Metsu
B-173- 05 Random Booster Volume 22 : Hell Salamander Outer Universe
B-181-05 Random Booster Volume 25 : Infinite Deathscyther Universe 1A