SYSTEM : DYNAMITE BATTLE
PRODUCT CODE : B-194-03
TYPE : STAMINA
SPIN DIRECTION : LEFT SPIN
WEIGHT : Approx. 68 g
RELEASE DATE : December 29th, 2021
Avoid counterfeits ! You can find the authentic Guilty Spriggan Outer Never-2 by Takara Tomy on BEYBLADE TOYS
Description of Guilty Spriggan Outer Never-2
Guilty Spriggan Outer Never-2 is a left-spin stamina type combination, released with the B-194 Random Booster Vol. 27 as part of the Dynamite Battle system on December 29th, 2021.

This Beyblade is a left-spin stamina combination featuring a top tier attack oriented Blade. This model comes with a gold recolored version of the "2" Armor.
Blade : Guilty
Guilty is a left-spin Blade, featuring four blades which are sloping upwards.

All four dragon heads on top of the blade are made of metal. Furthermore, there are two additional metal dragon heads located under the blade, making Guilty the heaviest blade of the Dynamite Battle system. See the complete article on the Guilty Blade here.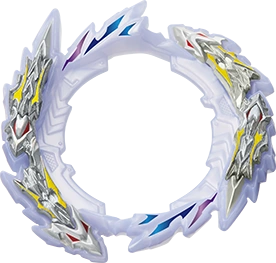 DB Core : Spriggan 1
Spriggan is a dual-spin DB core, allowing it to be used as a right-spin or a left-spin core. Spriggan has average burst resistance, making it outclassed by the Achilles and Spriggan 2 DB cores, both being dual-spin as well. See the complete article on the Spriggan 1 DB Core here.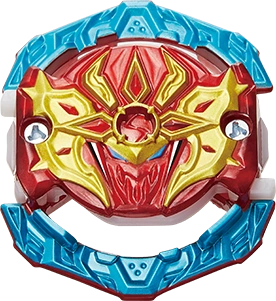 Forge Disc : Outer
Outer has a wide circular shape, featuring large gaps separating the center from the edge. This design creates OWD (Outward Weight Distribution), which highly increases stamina potential. Furthermore, the smooth circular perimeter of this disc creates high LAD (Life After Death) potential. See the complete article on Over here.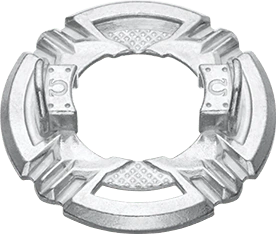 Performance Tip : Never
Never is a stamina type performance type, featuring a free spinning sharp tip surrounded by a plastic ring made of POM (Polyoxymethylene), a material known for its low friction. The free spinning tip is very sharp, limiting friction as well. See the complete article on Never here.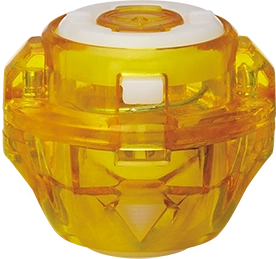 Armor : 2
The number "2" means that the weight is distributed at two points. With this Armor, the weight is evenly distributed in two opposite points. This even weight distribution brings balance and good stamina to any combination. See the complete article on the "2" Armor here.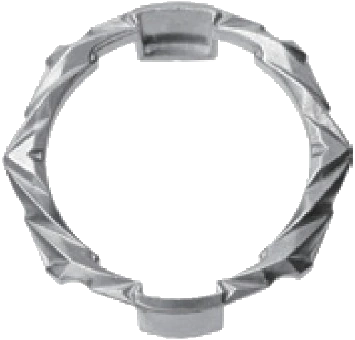 How to improve Guilty Spriggan Outer Never-2
FRIENDLY USE
In a non-competitive environment, this stock combination can be improved by replacing the Outer Forge Disc with a heavier Dynamite Battle/Burst Ultimate disc, such as Giga, Fortress or Over. With a heavier disc, the combination can be fun to use.

However, replacing Never with a strong attack type Performance Tip can improve this combination's performances. Drivers such as Xtreme' or Destroy' for example are great options.
COMPETITIVE USE
This Beyblade features two top tier competitive component : the Guilty Blade and the "2" Armor.

Guilty is a great Blade for attack type combinations. If available, Bahamut can be a great DB Core choice, and the "2" Armor creates good synergy with the Blade.

Fortress has good synergy with Guilty as well, and the Metal Xtreme Performance Tip can be used safely on the rubber slopes of the Bahamut DB Core.

Therefore, an example of competitive combo could be : Guilty Bahamut Fortress Metal Xtreme-2.

Final Thoughts on Guilty Spriggan
Guilty Spriggan Outer Never-2 has an outclassed Forged Disc, and average DB Core and Performance Tip. Therefore, competitive players will only be interested by the Guilty Blade and "2" Armor.

Aesthetically, this black, silver and gold recolored version of Guilty, "2" and Spriggan is impressive, making it this Beyblade a great addition for collectors.

Below you'll find the list of all the components from this product with a link to their detailed description.
List of Beyblade Components