SYSTEM : DYNAMITE BATTLE
PRODUCT CODE : B-198-01
COMPONENT : FORGE DISC
WEIGHT : Approx. 30,9 g
RELEASE DATE : May 28th, 2022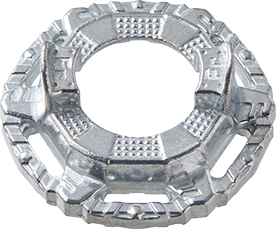 Description of Fortress
Fortress is a Forge Disc, first released with the B-198 Random Booster Vol. 29 as part of the Burst Ultimate system on May 28th, 2022.

This Forge Disc features an hexagonal shape, with six gaps separating the center from the edge of the Disc. Those gaps are designed to increase OWD (Outward Weight Distribution), which increases stamina potential. Furthermore, this Disc is one of the heaviest available in the Dynamite Battle and Burst Ultimate systems, with a weight fairly close to Forge Discs such as Over and Giga. The heavy and excellent weight distribution of Fortress make it a versatile component, allowing players to use it in any type of combinations.

However, this Forge Disc is at its best in attack type combinations, and usually is the preferred option with the Guilty Blade, due to its shape and design.

Therefore, Fortress is a must-have for competitive and non-competitive players alike.
List of Beyblade Products
The Fortress forge disc can be found in the following products :
B-201 Zest Achilles Customize Set