SYSTEM : BURST ULTIMATE
PRODUCT CODE : B-198-01
TYPE : DEFENSE
SPIN DIRECTION : RIGHT SPIN
WEIGHT : Approx. 74,4 g
OWNER : KEN MIDORI
RELEASE DATE : May 28th, 2022
Hasbro Ver. : Chain Kerbeus K8 Aquilon-Q Revolve-Q+Yard-6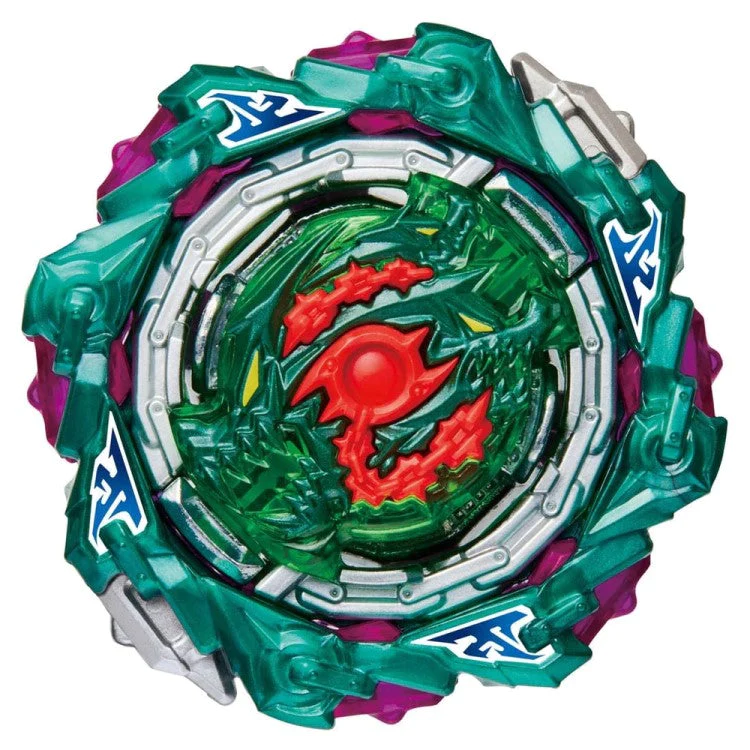 Avoid counterfeits ! You can find the authentic Chain Kerbeus Fortress Yard'-6 by Takara Tomy on BEYBLADE TOYS
Description of Chain Kerbeus Fortress Yard'-6
Chain Kerbeus Fortress Yard'-6 is a right-spin defense type combination, released with the B-198 Random Booster Vol. 29 as part of the Burst Ultimate system on May 28th, 2022. It is one of the two Prize Beys of this Random Booster, making it more difficult to get.

This Beyblade features two different gimmicks, the "Rubber Lock" on Kerbeus DB Core, which is identical to the one featured on the Bahamut DB Core. The Rubber Lock gimmick consists of three rubber protrusions : one in the center of the DB core, and one on each side of the core. The friction caused by those rubber protrusions make it harder for the lock to progress, thus highly increasing burst resistance.

The other gimmick is located on the Blade, which features six movable chains along its perimeter. The purpose of those movable chains is to absorb shocks and repel attacking Beyblades.

Those two gimmicks create high burst resistance, making Chain Kerbeus a strong defense type combination.
Behavior
This Beyblade has a semi-mobile behavior when launched hard, moving in circles to evade or counter incoming attacks. When launched with moderate force, this stock combination will remain steady in the center area of the stadium.
Performances
This Beyblade works as intended, being a strong defense type combination. The Chain Blade's gimmick helps absorbing shocks, and the "Rubber Lock" featured on the Kerbeus DB Core makes the combination very difficult to burst.

However, the low height of the Yard' Performance Tip combined with a slight lack of balance of the Chain Blade result in an increased scraping risk, decreasing stamina potential significantly. Therefore, this stock combination will shine against attack type combos, but it will most likely lose to good stamina combinations.

Furthermore, the chain gimmick on the Blade may help spin stealing Blades by creating more friction, making Chain vulnerable to such combinations.
How to improve Chain Kerbeus Fortress Yard'-6
FRIENDLY USE
In a non-competitive environment, replacing Yard' with other good defense Performance Tips will improve this Beyblade's performances. Drivers such as Atomic', Metal Universe or a good copy of Moment will preserve Chain Kerbeus defense type identity while increasing its stamina potential. Strong stamina drivers such as Bearing' can push this Beyblade's performances further.
COMPETITIVE USE
This Beyblade features three components that can find use in a competitive environment : the "6" armor, the Kerbeus DB Core and the Fortress forge disc.

The "6" armor finds use in stamina/defense type combinations. The Kerbeus DB Core offers incredible burst-resistance making it a great choice for attack type combinations or stamina combos having burst-resistance issues.

The Fortress forge disc is a great component with great weight distribution, making it a versatile and popular option in both attack and stamina combinations.
Final Thoughts on Chain Kerbeus
Chain Kerbeus Fortress Yard'-6 is a strong defense type Beyblade, featuring several top-tier components. The Kerbeus DB Core is one of the best right-spin DB Cores available in the Dynamite Battle and Burst Ultimate systems, making this model a must have.

Below you'll find the list of all the components from this product with a link to their detailed description.
List of Beyblade Components