SYSTEM : DYNAMITE BATTLE
PRODUCT CODE : B-181-01
COMPONENT : ARMOR
WEIGHT : Approx. 13,3 g
RELEASE DATE : April 24th, 2021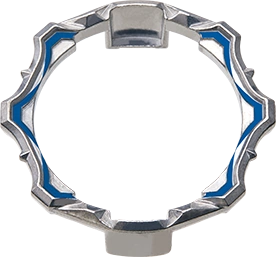 Description of the "6" Armor
Armors are used to modify or improve a combination's weight distribution.
First released with the B-181 Random Booster Volume 25, "6" is an armor from the Dynamite Battle system.

The number "6" means that the weight is evenly distributed at six points. With the "6" Armor, the weight is evenly distributed all around the layer, increasing stamina of any combination.

"6" is well balanced and works very well in stamina combinations, but it is often considered as outclassed by the "0" and "10" armors in the western Beyblade community. However, when decks of three or five Beyblades are required in a tournament, this Armor is a great addition for competitive players.
Therefore, "6" is a must have in any player's collection.
List of Beyblade Products
The "6" Armor can be found in the following products :