SYSTEM : DYNAMITE BATTLE
PRODUCT CODE : B-181-01
COMPONENT : CORE
SPIN DIRECTION : RIGHT SPIN
WEIGHT : Approx. 6,8 g
RELEASE DATE : April 24th, 2021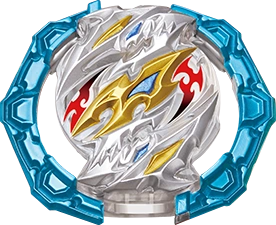 Description of the the Ragnaruk DB Core
First released with B-181 Random Booster Volume 25 as part of the Dynamite Battle system on April 24th, 2021, Ragnaruk is a right-spin DB Core.

This core features "seven fine locks", as advertised by Takara Tomy. It has much better burst resistance than the previous Ragnaruk Cores/Layers, and it is an average core in the Dynamite Battle and Burst Ultimate systems.

When used in a non-competitive environment, Ragnaruk is good enough to be used in any combination.

In the competitive meta-game, this DB Core is outclassed by Kerbeus rubber slopes/teeth and its very high burst resistance, and it doesn't match the stamina of cores such as Perseus or Dragon either.
List of Beyblade Products
The Ragnaruk DB Core can be found in the following products :