SYSTEM : DYNAMITE BATTLE
PRODUCT CODE : B-181-01
COMPONENT : BLADE
SPIN DIRECTION : RIGHT SPIN
WEIGHT : Approx. 8,3 g
RELEASE DATE : April 24th, 2021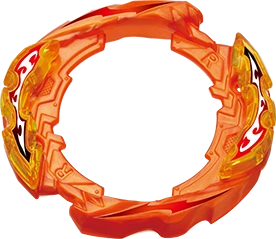 Description of the Cyclone Blade
First released in the B-181 Random Booster Volume 25 as part of the Dynamite Battle system on April 24th, 2021, Cyclone is a right spinning stamina blade, featuring a round perimeter and two plastic wings.

Being the first stamina blade released in the Dynamite Battle system, Cyclone is smaller and lighter than the vast majority of the other DB stamina blades, making it easier to launch and control, but outclassed in size and weight.

Furthermore, Cyclone features a gimmick : the two "stamina wings" are designed to be pushed to the outer part of the blade under the effect of centrifugal force, adding OWD (Outward Weight Distribution) to the combination, while also giving Cyclone a rounder shape. The gimmick does work, but it is difficult to tell how big of an impact it has on a layer's performance.

With the releases of Dynamite + F Gear and Wind, Cyclone is now considered as outclassed in the competitive meta-game, but that doesn't mean it is a poor component. In fact, Cyclone's shape works as intended, it remains a good stamina blade that proves to be reliable even against spin equalization combos, especially if combined with the right performance tips (High Xtend+' , Bearing' etc.).
Final Thoughts on Cyclone
Overall, for a player who is just starting a Beyblade collection, Cyclone is not the best stamina blade available. Therefore, it doesn't have to be on top of the priority list for players willing to quickly build tournament decks.

For players who just want to play with friends and family, Cyclone is a very good right-spin stamina blade, good enough to challenge left spin stamina blades such as Vanish.

Therefore, Cyclone remains a strong component in a player's collection, while not being a must-have.
List of Beyblade Products
You can find the Cyclone blade in the following products :