SYSTEM : BURST ULTIMATE
PRODUCT CODE : B-198-06
TYPE : STAMINA
SPIN DIRECTION : RIGHT SPIN
WEIGHT : Approx. 69 g
RELEASE DATE : May 28th, 2022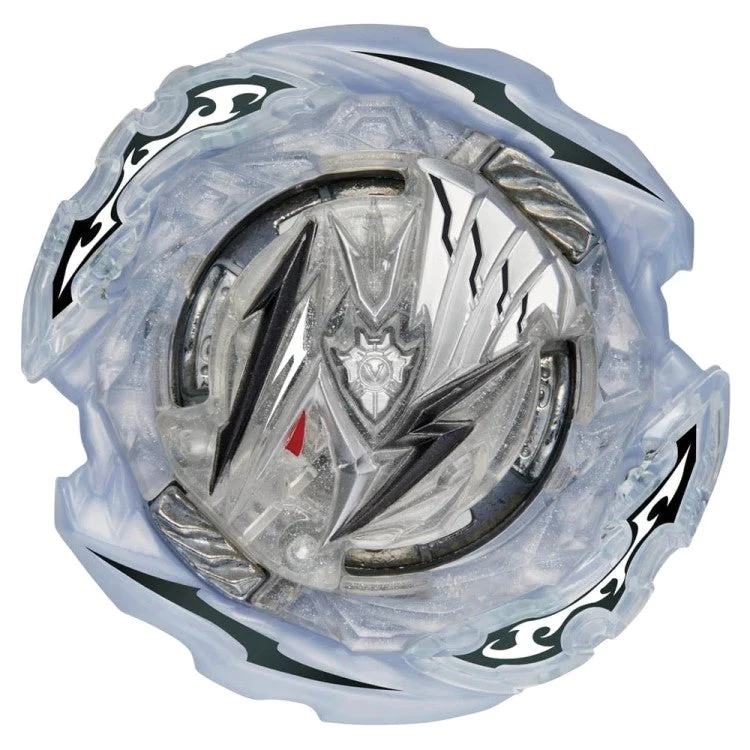 Avoid counterfeits ! You can find the authentic Cyclone Valkyrie Giga High Eternal-3 by Takara Tomy on BEYBLADE TOYS
Description of Cyclone Valkyrie Giga High Eternal-3
Cyclone Valkyrie Giga High Eternal-3 is a right-spin stamina type combination, released with the B-198 Random Booster Vol. 29 as part of the Burst Ultimate system on May 28th, 2022.

While not top-tier, this stock combination has good components which create good synergy, resulting in decent stamina potential. This Beyblade has a stationary behavior, trying to remain stable in the center area of the stadium.
Blade : Cyclone
Cyclone is a right spinning stamina blade, featuring a round perimeter and two plastic wings.

Being the first stamina blade released in the Dynamite Battle system, Cyclone is smaller and lighter than the vast majority of the other DB stamina blades, making it easier to launch and control, but outclassed in size and weight. See the complete article on the Cyclone Blade here.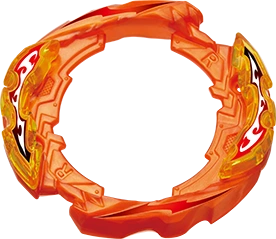 DB Core : Valkyrie 2
Valkyrie 2 is a right-spin DB core featuring three locks, made of 2 thick teeth. This DB core features references to past iterations of the Valkyrie line. See the complete article on the Valkyrie 2 DB Core here.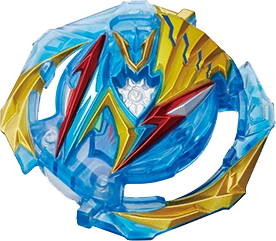 Forge Disc : Giga
Giga is an octagon-shaped Forge Disc. It is one of the heaviest Forge Discs in the Dynamite Battle and Burst Ultimate systems and it has great weight distribution. See the complete article on Giga here.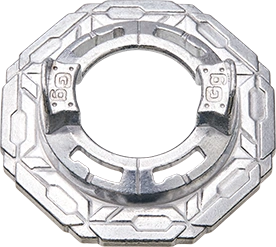 Performance Tip : High Eternal
High Eternal is the "High" variant of the Eternal Performance Tip.
This driver features a sharp plastic tip of a small diameter surrounded by a free-spinning "guard disc" made of POM (PolyOxyMethylene), a material known for its low levels of friction. See the complete article on High Eternal here.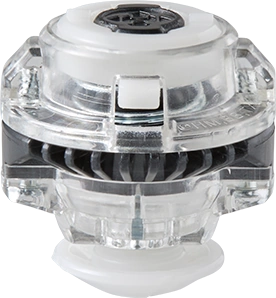 Armor : 3
The number "3" means that the weight is evenly distributed at three points. The three weight points of this armor will create synergy with the 3 main contact points of three-sided Blades, thus allowing the combination to hit harder and increase its movement. See the complete article on the "3" Armor here.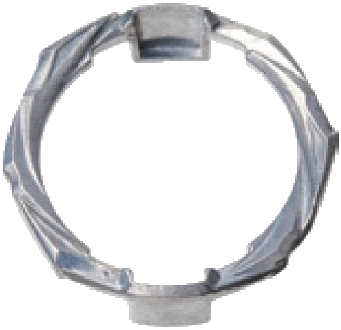 How to improve Cyclone Valkyrie Giga High Eternal-3
FRIENDLY USE
In a non-competitive environment, this stock combination can be easily and quickly improved as a stamina oriented combo. The only component that stands out is the "3" Armor, since it creates synergy with attack Blades. Therefore, replacing it with any well rounded, balanced Armor will improve this Beyblade. The "0", "2", "10" or "6" armors can all be used safely in this combo.

Furthermore, High Eternal is a decent stamina driver, therefore upgrading it really depends on the Beyblade collection at the disposal of the player(s). If High Eternal seems to be too weak against other combinations from your collection, then Bearing' is a good alternative. High Xtend+' is another strong option.
COMPETITIVE USE
This Beyblade features only one top tier competitive component : the Giga Forge Disc, highly versatile and effective in any type of combination.

However, for players who are just starting their Beyblade collection but willing to quickly build a competitive deck, the "3" Armor can be used in attack type combinations featuring a three-sided Blade (a Blade with three main contact points), such as Savior or Ultimate. "3" should be replaced with "9" when that option becomes available.

The same applies to the Cyclone Blade, Valkyrie 2 DB Core, and High Eternal Performance Tip. None of these components are great, but they're decent enough to get a new player started in local tournaments.
Final Thoughts on Cyclone Valkyrie
Cyclone Valkyrie Giga High Eternal-3 is a decent stamina type stock combination. It features several good components, one very good attack oriented armor and one top tier competitive Forge Disc. Therefore, this Beyblade is not a must have, but it has enough quality components to help new players getting started.

Below you'll find the list of all the components from this product with a link to their detailed description.
List of Beyblade Components