SYSTEM : DYNAMITE BATTLE
PRODUCT CODE : B-193
COMPONENT : BLADE
SPIN DIRECTION : RIGHT SPIN
WEIGHT : Approx. 11 g
RELEASE DATE : December 11th, 2021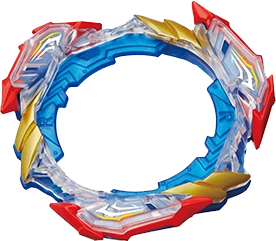 Description of Ultimate
First released with the B-193 Ultimate Valkyrie Legacy Variable'-9 Booster as part of the Dynamite Battle system on December 11th, 2021, Ultimate is a right-spin attack Blade.

Ultimate features a three-sided shape, with a V-shaped rubber design like the original Valkyrie. The Ultimate blade is inspired by the Beyblade Burst Valkyrie line.
References to the Valkyrie Line
First of all, there is clear plastic on all three attack blades, a reference to the original Valkyrie Beyblade. Between these attack blades are small wings, inspired by Winning Valkyrie, and on top of the blades are "air ducts", a reference to Slash Valkyrie.

Finally, there is also a reference to the Savior blade from B-187 Savior Valkyrie Shot-7, with red rubber on each attack blade. Ultimate's rubber is much harder than the one previously used on the Savior blade.
Ultimate Performances
Ultimate is a solid attack blade, with good knock-out potential. In our test battles, the Ultimate blade was able to knock out strong stamina combinations with consistency, including the "classic" Vanish blade, something Savior could not do as often.

This blade does not have as much burst attack potential as Savior, but it does not burst or self-burst as often. When compared to the Savior blade, Ultimate can get burst finishes, but not as many as Savior.
On the other hand, Ultimate does not burst as often and does not require DB cores with high burst resistance to work.

Savior tendency to burst/self-burst forced players to pick the Belial 2 DB core, so they could use the "Burst-Lock" system to prevent the Savior combination from bursting. Therefore, the Ultimate blade allows a competitive player to save a "special" DB core such as Belial 2 for stamina combinations with poor burst resistance (combos using Bearing' for example).

When used in stamina combinations, Ultimate is decent, not top-tier. It is worth noting that the white colored variant of this blade coming with the B-196-01 Random Booster Volume 28 has softer rubber on its contact points, and it tends to have better results in stamina combos.
Final Thoughts
Ultimate is a good attack blade, without being much better or stronger its predecessor, Savior. However, the few improvements that Ultimate brings, such as burst resistance and knock-out potential make it a safer choice in a player's deck.
Therefore, Ultimate is a must have in any player's collection.
List of Beyblade Products
You can find the Ultimate blade in the following products :