SYSTEM : DYNAMITE BATTLE
PRODUCT CODE : B-185
COMPONENT : BLADE
SPIN DIRECTION : LEFT SPIN
WEIGHT : Approx. 12,8 g
RELEASE DATE : May 29th, 2021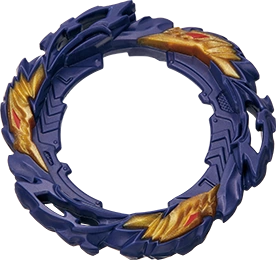 Description of Vanish
First released with the B-185 Vanish Fafnir Tapered Kick-3 Booster as part of the Dynamite Battle system on May 29th, 2021, Vanish is a left-spin stamina Blade, which is entirely made of rubber.

Rubber is known for its high friction, making the Vanish Blade ideal for spin-stealing combinations. The rubber will create friction against the opponent's Beyblade, thus speeding up the whole combination every time it makes contact with the opponent's Blade. Spin-equalizing* combinations can be very useful for younger players, since launching such a combo doesn't require power ; in fact it usually works better with light to moderate launch power.

Furthermore, this Blade excels at absorbing impacts, thanks to the gaps located at each contact point. Impacts on this Blade will just flex the rubber, meaning that Vanish will absorb most of the shocks it receives, keeping the combination relatively stable. Therefore, even attack combinations can struggle against Vanish.

This Blade is a very popular choice in Beyblade tournaments. It is usually combined with Bahamut or Longinus DB Core and Armors such as "0", "2", "10" or "6".

Nexus + S Gear (in free-spin mode) can be a very interesting Forge Disc choice, but discs such as Giga or Over are very popular. Finally, Metal Drift, Bearing Drift, Bearing' or High Xtend+' are strong stamina Performance Tips, often used with Vanish.
Final Thoughts on the Vanish Blade
Vanish is one of the strongest stamina Blades available in the Dynamite Battle and Burst Ultimate systems. While stamina combinations using this Blade are focused on spin-equalization, they are highly competitive in both same and opposite-spin battles.

Therefore, Vanish is a must-have in any player's collection.

*Note : if you are unfamiliar with some of the concepts, you can check our starting guide and our key concepts articles.
List of Beyblade Products
The Vanish blade can be found in the following products :