SYSTEM : DYNAMITE BATTLE
PRODUCT CODE : B-193
TYPE : ATTACK
SPIN DIRECTION : RIGHT SPIN
WEIGHT : Approx. 63,3 g
OWNER : VALT AOI
RELEASE DATE : December 11th, 2021
Hasbro Version : Ultimate Evo Valtryek V7 Karma-Q Revolve-Q+Hunter-6′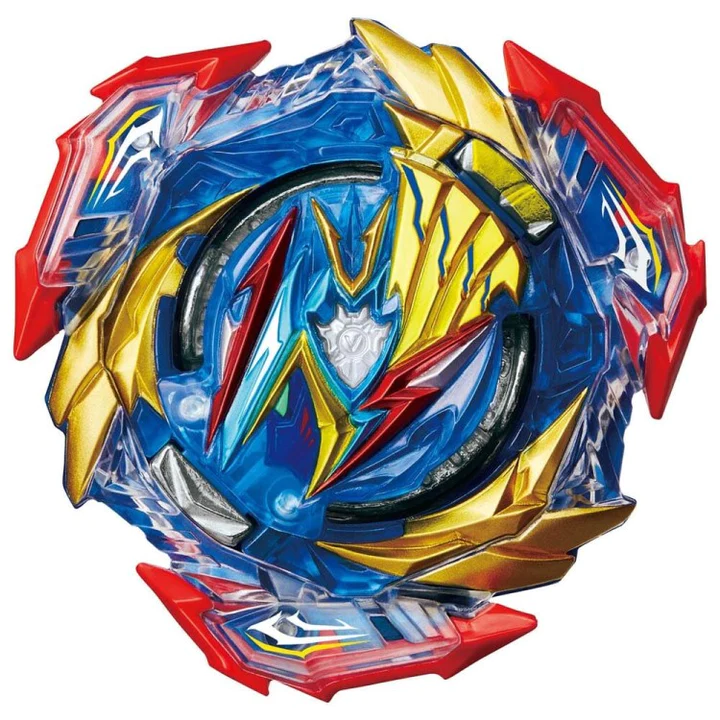 Avoid counterfeits ! You can find the authentic Ultimate Valkyrie Legacy Variable'-9 by Takara Tomy on BEYBLADE TOYS
Description of Ultimate Valkyrie
Released on December 11th, 2021 as part of the Dynamite Battle system, Ultimate Valkyrie Legacy Variable'-9 is a right-spin attack type combination featuring a three-sided shape, whose design is inspired by the Beyblade Burst Valkyrie line.
References to the Valkyrie Line
The design of this Beyblade is inspired by several Valkyrie models released earlier in the Beyblade Burst generation. Aesthetically, Ultimate Valkyrie feels like a tribute to the Valkyrie line by blending various designs, colors, accents in one "Ultimate" Beyblade.

First of all, there is clear plastic on all three attack blades, a reference to the original Valkyrie Beyblade. Between these attack blades are small wings, inspired by Winning Valkyrie, and on top of the blades you can see "air ducts", a reference to Slash Valkyrie. Finally, there is also a reference to the Savior blade from B-187 Savior Valkyrie Shot-7, with red rubber on each attack blade. Ultimate's rubber is much harder than the one previously used on the Savior blade.

Looking at the Valkyrie 2 DB core, we can see a reference to Victory Valkyrie with the face designed in a profile view. All Valkyrie cores released after Victory Valkyrie had a head on view design. The center of the DB core is reminiscent of the Strike God Chip on Strike God Valkyrie, and the mark on the face is a reference to Brave Valkyrie, which also featured this red mark on the cheek.

The Legacy forge disc is also a reference to a previous model, Boost, Victory Valkyrie forge disc. Two blades on the disc also feature a "Z" like design, a reference to Cho-Z Valkyrie. Even the performance tip Variable' is the "dash" variant of the Variable driver found on Victory Valkyrie. Finally, the nine wings of the "9" armor are a reference to the Wing forge disc, from Valkyrie Wing Accel.
Behavior and Performances
Out of the box, Ultimate Valkyrie Legacy Variable'-9 is not a very strong attack combination, mainly because of the forge disc and driver choices. The Legacy forge disc is too light and Variable' is inconsistent, especially in pristine condition. Compared to its predecessor B-187 Savior Valkyrie Shot-7, Ultimate Valkyrie stock combination is better, due to how underwhelming the Shot driver is performance wise.

Ultimate Valkyrie's behavior is heavily influenced by its performance tip, Variable'. In pristine condition Variable' is just not very good, and once worn it becomes much faster but also very hard to control. This means that creating or maintaining flower patterns with this Beyblade will be difficult. Many Valkyrie stock combination had that issue ; Valkyrie's identity throughout the whole Beyblade Burst generation has usually been more tornado stall oriented. This is still the case with Ultimate Valkyrie, which can display great tornado stalls with the right amount of wear on Variable' and the right amount of launch power.
How to Improve Ultimate Valkyrie
FRIENDLY USE
In a friendly environment, replacing the Legacy Forge Disc may improve performances. Many options are available : discs such as Giga, Over, Tapered, Fortress, Illegal, or Nexus + S Gear are all worth experimenting with. They are all heavy with good weight distribution. Usually, the best results are obtained with Giga, Illegal, Fortress and Over.

The next upgrade would have to be the Performance Tip, but players can give a chance to Variable' to wear it down and see they enjoy it. For players willing to preserve the Valkyrie identity, Reboot' and Ultimate Reboot' can be a lot of fun. For better performances and strong tornado stalls then Destroy' is a good option. When playing in the DB standard stadium, all the aforementioned Performance Tips can work, but Zone' can be experimented with as well. For players using the Standard Beystadium then nothing beats Xtreme', which is the best driver to create flower patterns with efficiency and consistency.
COMPETITIVE USE
Ultimate Valkyrie Legacy Variable'-9 features two parts that can find use in a competitive player's deck : the Ultimate blade and the "9" armor. The Ultimate blade is a good alternative to Savior as a right-spin attack blade, featuring less recoil but also a lower self-burst risk. The "9" armor is perfect to create synergy with three sided attack blades such as Savior and Ultimate.

With the Ultimate blade and "9", players have a nice base for a good competitive Layer. The DB core choice is not as critical as it used to be with Savior, because Ultimate does not feature the same self-burst risk. Therefore, Belial 2 and its "Burst-Lock" are not required, players can pick Perseus if they want a heavy right-spin DB core.

The Forge Disc choice depends on which models players have at their disposal and the other combos they want to use in their deck. As mentioned earlier, Giga, Over, Fortress, Illegal, or even Nexus + S Gear can be experimented with for competitive use. When it comes to the Performance Tip, Xtreme' is hard to beat, Quick' being a good alternative, but Destroy' can be interesting when facing other attack combinations.

Therefore, an example of competitive combination could be : Ultimate Perseus Illegal Xtreme'-9.
Final Thoughts on Ultimate Valkyrie
Ultimate Valkyrie Legacy Variable'-9 stock combination is not a very strong one, but the Ultimate blade and the "9" armor will be great additions to a competitive player's collection. Furthermore, this Beyblade being the last Valkyrie model of the Beyblade Burst generation, it is a highly recommendable purchase for fans of the Burst system.

Therefore, Ultimate Valkyrie can be a must-have for competitive players looking for right-spin attack options, and it is a great addition in any player's collection.

Below you'll find the list of all the components from this product with a link to their detailed description.
LIST OF BEYBLADE COMPONENTS