SYSTEM : DYNAMITE BATTLE
PRODUCT CODE : B-193
COMPONENT : CORE
SPIN DIRECTION : RIGHT SPIN
WEIGHT : Approx. 7,3 g
RELEASE DATE : December 11th, 2021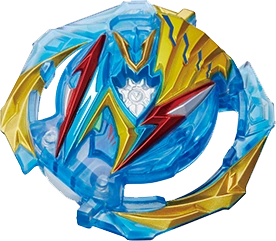 Description of the Valkyrie 2 DB Core
First released with the B-193 Ultimate Valkyrie Legacy Variable'-9 Booster as part of the Dynamite Battle system on December 11th, 2021, Valkyrie 2 is a right-spin DB core featuring three locks, made of two thick teeth. This DB core features references to past iterations of the Valkyrie line.

We can see a reference to Victory Valkyrie with the face designed in a profile view. All Valkyrie cores released after Victory Valkyrie had a head on view design. The center of the DB core is reminiscent of the Strike God Chip on Strike God Valkyrie, and the mark on the face is a reference to Brave Valkyrie, which also featured this red mark on the cheek.

Valkyrie 2 has average to good burst resistance, and it is outclassed by other DB cores for competitive purposes. While this DB core can be decent, especially in attack type combinations, other DB cores will be preferred in a competitive environment. Perseus offers more weight and attack/stamina potential, Belial 2 and Kerbeus have better burst resistance and Dragon has better stamina.
Therefore, Valkyrie 2 is a good addition to any player's collection, but not a must-have for competitive players.
List of Beyblade Products
You can find the Valkyrie 2 DB core in the following products :