SYSTEM : DYNAMITE BATTLE
PRODUCT CODE : B-198-01
COMPONENT : CORE
SPIN DIRECTION : RIGHT SPIN
WEIGHT : Approx. 8,15 g
RELEASE DATE : May 28th, 2022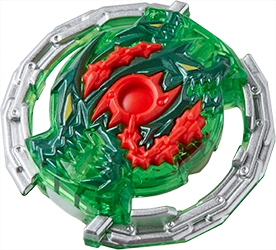 Description of the Kerbeus DB Core
Kerbeus is a right-spin DB core, first released with the B-198 Random Booster Vol. 29 as part of the Burst Ultimate system on May 28th, 2022.

This DB Core features two rubber slopes instead of the usual locks. It also has a very effective gimmick : the Rubber Lock, designed for increased burst resistance. The Rubber Lock gimmick consists of three rubber protrusions : one in the center of the core, and one on each side of the core. The friction caused by those rubber protrusions make it harder for the lock to progress, thus highly increasing burst resistance.

It is also worth noting that this rubber lock makes Kerbeus compatible with two Burst Ultimate forge discs, Xanthus and Moon, which are both featuring raised protrusions, part of the "BU Lock" gimmick.

Kerbeus is the right-spin DB core with the highest burst resistance in the DB/BU systems, but it has less stamina than the Belial 2 DB Core. In a competitive environment, this DB Core can be used in attack type combinations or stamina combos with poor burst-resistance. Therefore, Kerbeus is a must-have for competitive players and non competitive players alike.
List of Beyblade Products
The Kerbeus DB core can be found in the following products :
B-198-04 Random Booster Vol. 29 : Dynamite Kerbeus Legacy Moment-9 
B-202-04 Random Booster Vol. 30 : Wind Kerbeus Xanthus Bounce-4 
B-204 BU All-In-One Battle Set : Chain Kerbeus Karma Moment'-3 (Gold Ver.)