SYSTEM : BURST ULTIMATE
PRODUCT CODE : B-198
COMPONENT : BLADE
SPIN DIRECTION : RIGHT SPIN
WEIGHT : Approx. 14,75 g
RELEASE DATE : May 28th, 2022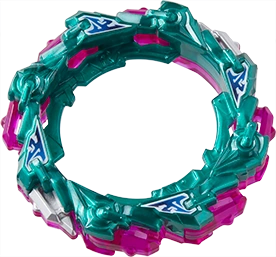 Description of the Chain Blade
Chain is a right-spin defense type blade released with the B-198 Random Booster Vol. 29 as part of the Burst Ultimate system on May 28th, 2022.
The Chain Blade Gimmick
This Blade has a circular shape and a rugged design, featuring a total of eight blades along its perimeter. Six of this blades are acting as a movable chain, being able to extend and retract. This design is intended to absorb shocks from opposing Beyblades.

However, theses blades will move or remain permanently extended depending on the DB Core choice and the mode (High or Low) used. These blades will indeed only be able to move with a DB Core that allows it, such as Kerbeus. Other DB cores will push on the blades from the inside, making them permanently extended. The two remaining blades, colored in silver, cannot move and are permanently extended on either side of the Chain Blade.
Performances
Chain slightly lacks balance, decreasing its stamina potential. This Blade's gimmick creating a rugged design, the perimeter of the Blade can offer friction for opposing spin-stealing Blades, making Chain vulnerable to such combos. Therefore, this Blade will most likely struggle when facing same or opposite-spin stamina combinations.

However, this Blade has good burst-resistance and a real ability to cope with opposing Beyblade's strikes, making it a good choice in pure defense oriented combinations.
Final Thoughts
This Blade does what it is supposed to, nothing more, nothing less. It proves to be a good choice in pure defense combinations due to its ability to absorb and repel opposing Beyblade's attacks. However, it has poor to average stamina potential, making it is easily outclassed by top-tier stamina Blades.

Therefore, Chain is not a must have for competitive players, but it can be a nice addition to any player's collection as a purely defensive component.
List of Beyblade Products
You can find the Chain Blade in the following products :
B-198-02 Random Booster Vol. 29 : Chain Ragnaruk Tapered Accel'-10 (Blue Ver.)
B-201 Zest Achilles Customize Set (Black Ver.)
B-204 BU All-In-One Battle Set : Chain Kerbeus Karma Moment'-3 (Gold Ver.)