SYSTEM : DYNAMITE BATTLE
PRODUCT CODE : B-187
COMPONENT : BLADE
SPIN DIRECTION : RIGHT SPIN
WEIGHT : Approx. 11,1 g
RELEASE DATE : July 17th, 2021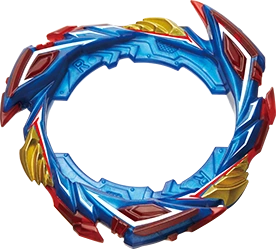 Description of Savior
First released with the B-187 Savior Valkyrie Shot-7 Starter as part of the Dynamite Battle system on July 17th, 2021, Savior is a three-sided right-spin attack blade.

This blade's contact points are covered by small rubber bits, which will detach from the blade, one by one, once worn. This is an example of the "Awakening" concept created by Takara Tomy, a specific type of wear that enhances a part performance instead of diminishing it. Once Savior is "awakened", meaning that the rubber bits are gone, the plastic contact points are now exposed, increasing the blade's attack potential.

Savior can be used in both attack and stamina combinations. When used in stamina-combinations, it looks like the pristine "non-awakened" blades can be better against opposite-spin combinations. In attack combinations, the results are a mixed bag : the pristine blades definitely have good to great K.O. potential, showing they're perfectly fine in attack combinations. The awakened copies seem to hit harder, with a very strong one-hit K.O. potential, but also seem more prone to bursting.

Intended to "repel" the opponent, Savior hits really hard, but it can suffer from heavy recoil at times, and is prone to bursting. It makes the choice of the DB core crucial ; DB Cores such as Kerbeus, or Belial 2 can mitigate Savior tendency to burst.

Overall, Savior is a great attack blade, only lacking a bit of consistency ; the recoil and high burst rate can make it unpredictable. Players may want to experiment with the DB cores and Forge Discs at their disposal, so they can find a well balanced combination that suits their style of play and launch power.
Final Thoughts on Savior
Awakened or not, Savior is a very good option for right-spin attack combinations, even in a competitive environment. Furthermore, Savior is not necessarily outclassed by its successor Ultimate, which is why it is still a great addition in any player's collection.
List of Beyblade Products
You can find the Savior Blade in the following products :