SYSTEM : DYNAMITE BATTLE
PRODUCT CODE : B-193
TYPE : ATTACK
COMPONENT : PERFORMANCE TIP
WEIGHT : Approx. 6,3 g
RELEASE DATE : December 11th, 2021 (August 11th/12th 2019 as a Prize)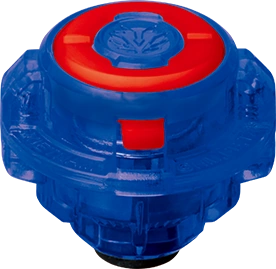 Description of Variable'
Variable' is the "dash" version of the Variable performance tip. You can see our complete article on the Variable driver here for more details. The dash version of a driver has a stronger spring, increasing burst resistance significantly.

Variable' features the same characteristics as his predecessor. Very fast when worn, this driver is also very hard to control, making flower patterns difficult to create and maintain. Once the first set of rubber spikes is gone, Variable' main purpose is to deliver fast, spectacular tornado stalls. However, even tornado stalls can become difficult to control, with a risk of self-K.O.

With no change in behavior, control and stamina, Variable' is still outclassed by other attack type performance tips such as Xtreme' or Quick', or Accel' and Destroy' when plastic tips are required. However, with the right amount of wear and launch power, Variable' can be used to create fast tornado stalls, which can be a good counter against other competitive attack type combinations.

Furthermore, a worn Variable' will reduce the combination height, which can result in scraping but also make the opponent destabilized.

In the Dynamite Battle and Burst Ultimate systems, the scraping risk is increased due to the combination's height in low-mode and the size of the forge discs used. However, a worn Variable' (with only the first set of spikes gone) can have surprising results in specific scenarios in the DB standard stadium, where rubber drivers are typically useless. The DB standard stadium design and larger size allows the player to launch a Variable' with more power, with a lower risk of self-K.O, but this driver remains inconsistent, even in the larger DB stadium.
Final Thoughts
Therefore, Variable' is too inconsistent to be a must have for competitive players. In a friendly environment, Variable' speed can be fun and spectacular to watch for intermediate and expert players, but it can also be frustrating to control for beginners.
List of Beyblade Products
You can find the Variable' performance tip in the following products :