SYSTEM : DUAL LAYER
PRODUCT CODE : B-34
TYPE : ATTACK
COMPONENT : PERFORMANCE TIP
WEIGHT : Approx. 6,1 g
RELEASE DATE : April 2nd, 2016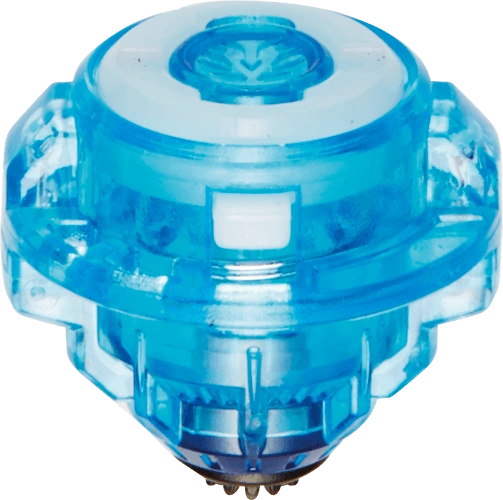 Description of Variable
Variable is an attack type performance tip released with the B-34 Victory Valkyrie Boost Variable in the Dual Layer system. Variable is intended to become faster once worn, featuring two sets of rubber spikes designed to break.

When Variable is in pristine condition : it will make contact with the stadium floor using a first set of six thin, tall rubber spikes, which will disappear pretty quickly. A brand new Variable still behaves like an attack type driver, but this first set of spikes is only slowing it down.

Once the first set is gone, Variable now makes contact through a second set of fourteen spikes, which will increase this driver's speed significantly. This set of spikes will not wear down as fast as the first. At this stage, Variable is one of the fastest performance tips in Beyblade Burst. However, the wide contact surface combined with the high speed of the tip are making the combination harder to control. Flower patterns are now more difficult to create and maintain, even for experienced players. The speed of Variable at this stage can be used to create fast tornado stalls, but even that technique, easier to achieve than a flower pattern, can end in a self-K.O. Many players consider this stage to be the best.

Once the second set of teeth is gone, Variable becomes a wide rubber tip, losing stamina and becoming even harder to control in the process. At this stage, even tornado stalls become difficult to achieve, and Variable becomes quite unpredictable and inconsistent.

In a competitive environment, Variable is outclassed by drivers such as Xtreme' or Quick', or Accel' and Destroy' when plastic tips are required. However, with the right amount of wear and launch power, Variable can be used to create fast tornado stalls, which can be a good counter against other competitive attack type combinations. Furthermore, a worn Variable will reduce the combination height, which can result in scraping but also make the opponent destabilized.
Final Thoughts
In a competitive environment, Variable is too inconsistent to be recommended, but it can find use in very specific and limited scenarios. In a friendly environment, Variable speed can be fun and spectacular to watch, but it can also be frustrating to control, especially for players who are new to the game.
List of Beyblade Products
You can find the Variable performance tip in the following products :
B-34 Victory Valkyrie Boost Variable
B-38 Beyblade Burst Entry Set : Victory Valkyrie Boost Variable
B-49-06 Random Booster Volume 3 Yaeger Yggdrasil.G.Y : Storm Spriggan Limited Variable
B-49-08 Random Booster Volume 3 Yaeger Yggdrasil.G.Y : Kaiser Kerbeus Gravity Variable
B-00 Victory Valkyrie Boost Variable (Flame Knight Ver.)
B-00 Victory Valkyrie Boost Variable (Kirin Limited Campaign Ver.)
B-00 Victory Valkyrie Boost Variable (G1 Bronze Ver.)
B-00 Victory Valkyrie Boost Variable (G1 Silver Ver.)
B-00 Victory Valkyrie Boost Variable (G1 Gold Ver.)
B-00 Victory Valkyrie Boost Variable (Special Limited Ver.)
B-00 Zillion Zeus Magnum Variable (Gold God Ver.) (CoroCoro Exclusive)
B-00 Dragoon Fantom Gravity Variable (Aniki Ver.) (CoroCoro Exclusive)
B-00 Dragoon Fantom Gravity Variable (WBBA. Store Exclusive)
B-00 Bakuten Shoot Beyblade 20th Anniversary Set : Dragoon Fantom Gravity Variable