SYSTEM : DYNAMITE BATTLE
PRODUCT CODE : B-185
COMPONENT : FORGE DISC
WEIGHT : Approx. 29,3 g
RELEASE DATE : May 29th, 2021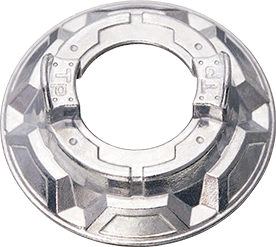 Description of Tapered
First released with the B-185 Vanish Fafnir Tapered Kick-3 Booster on May 29th, 2021, Tapered is Forge Disc from the Dynamite Battle system.

Tapered is a cone-shaped Forge Disc, with high OWD (Outward Weight Distribution). The downward slope of this disc is officially intended to help stabilize the combination, making it a stamina type Forge Disc.

In reality, Tapered works as intended, its high OWD creates high stamina potential, but it can do more. This unique weight distribution combined with its heavy weight are making this Forge Disc an excellent choice for both attack and defense combinations as well.

The perfect round shape of the cone also creates LAD potential, which further increases Tapered's versatility.
In the competitive meta-game, Tapered is often considered as outclassed by discs such as Illegal, Giga or Over when used in a stamina combination, but it can be a solid alternative when a player needs three (or five) different competitive combinations.
Final Thoughts
Tapered is not necessarily a must-have for competitive players, but its versatility makes it a very useful, highly recommendable Forge Disc in any player's collection.
List of Beyblade Products
The Tapered forge disc can be found in the following products :