SYSTEM : DYNAMITE BATTLE
PRODUCT CODE : B-185
TYPE : STAMINA
COMPONENT : PERFORMANCE TIP
WEIGHT : Approx. 9,4 g
RELEASE DATE : May 29th, 2021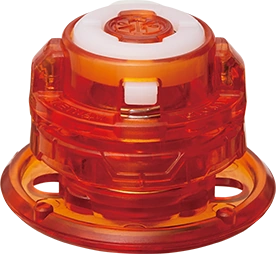 Description of Kick
Kick is a stamina type performance tip first released with the B-185 Vanish Fafnir Tapered Kick-3 booster as part of the Dynamite Battle system on May 29th, 2021. This driver features a sharp, cone-shaped tip which sits under a fairly large plastic disc. This plastic ring (the lower part on the picture above) can rotate, but its main purpose is to tilt thanks to a built-in springs mechanism.

When Kick's combination is destabilized, the plastic ring will make contact with the stadium's floor, but it is designed to tilt back up with the help of the built-in springs, resulting in an attempt to re-stabilize the whole combination.
This gimmick does work at times, but not with consistency, and its efficiency can vary from a model to another. Furthermore, the gimmick can be triggered at high spin velocity, but when the combination slows down, the disc will cause scraping and decrease the stamina potential of your combination.
Kick is not as good as competitive stamina Performance Tips in the DB/BU systems, but it isn't poor either. Therefore, in a friendly environment, if you have a hard time beating stamina type combinations, Kick can be useful to create average to good stamina combinations.

If you plan to join tournaments, Kick cannot be recommended, it is outclassed by the vast majority of stamina drivers released in the Dynamite Battle and Burst Ultimate systems.
List of Beyblade Products
The Kick performance tip can be found in the following products :