SYSTEM : SUPERKING
PRODUCT CODE : B-175
TYPE : DEFENSE
COMPONENT : PERFORMANCE TIP
WEIGHT : Approx. 10 g
RELEASE DATE : November 28th, 2020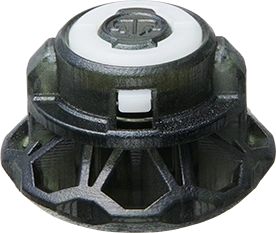 Description of Drift
First released in the B-175 Lucifer The End Kou Drift Booster as part of the Superking Layer system on November 28th, 2020, Drift is a defense type performance tip, featuring a large, heavy round base and a wide low angled free-spinning sharp tip.

The wide shape of the free-spinning sharp tip creates very good levels of defense, while maintaining low friction on the stadium floor, increasing stamina. The very wide and heavy base of Drift, combined with the fact that the tip is sitting right under it are also increasing stamina and defense.

The free-spinning nature of the tip makes Drift a great driver for spin-stealing combinations, while also creating high LAD (Life After Death). This driver really shines in opposite-spin match-ups, where it can be used in spin-stealing combos or as a counter against a spin-equalizing Beyblade. Furthermore, stamina battles are usually very close, and Drift's LAD can be used to make the difference.

With high defense, stamina, LAD and great spin-steal potential, Drift is a very effective and powerful driver in opposite-spin battles, but it can struggle in same spin match-ups, where it will prove difficult to control. When you need to hard launch a combo using this driver, you may have to use the banking shoot technique with the right amount of power to keep control over your combination.
Final Thoughts
Drift is a top-tier competitive performance tip, making it a must-have in any player's collection.

If options such as double-chassis or the Bahamut and Kerbeus DB cores are available, then Metal Drift should be preferred.
List of Products
You can find the Drift performance tip in the following products :
B-175 Lucifer The End Kou Drift