A guide to help you spot and avoid fake Beyblades
Counterfeits have been a real plague in Beyblade for years now. From poisonous to fragile, counterfeits usually come cheap but they are of very poor quality, and sometimes even dangerous. Imports from Japan can have ridiculously high custom clearance fees, which is why authentic Takara Tomy models can be quite expensive in Europe (and in the U.S. as well). Counterfeits have invaded this market by displaying products that look exactly like the Takara Tomy ones, for a much cheaper price. Unfortunately, counterfeits are made of materials so cheap they can break after your first launch, which can ruin your experience with this amazing game.

A warning for your safety and the safety of others
Going for the cheaper product is tempting, but it will break so fast, it's just not worth it. Both plastic and metal parts from counterfeit models can break, and they can break badly, shattered when launched in the stadium with plastic and metal bits flying all over the place. It's not only a disappointing purchase, it's just borderline dangerous. Furthermore, plastic and metal parts of fake Beyblades can have high levels of toxic metals, from antimony to lead and many others. For your safety, and/or the safety of your children, please avoid counterfeits.

In this article, we will give you tips to avoid Beyblade counterfeits when you're looking to purchase a model, and we'll also show you how to make sure the product you received is an authentic Takara Tomy Beyblade.
How to avoid Beyblade counterfeits
Check the Beyblade Brand, and look for Takara Tomy (or Hasbro)
The only official Beyblade brands are Takara Tomy and Hasbro, so first of all, no matter which online store you are visiting, you need to check the brand displayed on the product page. It sounds stupid, but you can have a picture of an authentic Beyblade and the brand says : Beyblade Burst, Burst Gyro, StormGyro, Eito, Mlywd etc. You don't want to see any other brand than Takara Tomy. Even "Beyblade Burst" is not good enough, that's usually the sign of a counterfeit product.

Check the Beyblade packaging
Next, you may want to look at the packaging of the Beyblade :
the Takara Tomy brand
you need to see the real Beyblade logo (usually replaced by a gyro-something stylish logo)
the serial number, but it may be covered by a barcode sticker.
Serial Numbers should look like this : E1621. It gives you the date of production of your Takara Tomy Beyblade. The letter is the month of production : A for January, B for February, etc. The first double digit number is for the day of production, the second and last double digit number is for the year of production.
Back to our example, with the E1621 serial number ; you can read it like this : E/16/21
E = May/ 16 = the 16th/ 21=2021. This Beyblade's date of production is May, 16th 2021.
Do not be scared of green elephants
You may have or may be looking at a Beyblade packaging with everything right, brand, logo, serial number, but something bothers you : there's a green elephant logo next to the Takara Tomy one. You're fine, it means this is an authentic Takara Tomy Beyblade produced for the South Korean market. The green elephant is the logo of the Young Toys company, the official distributor of Beyblade in South Korea. Everything written on the packaging and in the instructions is in Korean instead of Japanese, and this is the only difference with a Japanese model.
How to make sure your Beyblade is not a counterfeit
Usually, with the Beyblade Burst generation, if the package is authentic then the model is genuine as well. Unfortunately, experienced players are familiar with mid-fakes, which plagued the Metal generation : the package is right, but the model inside is a fake. If you are in doubt and want to make sure your Beyblade Burst is authentic, you can check the following simple steps.
Check the screws
Only Tri-wings or headless screws are used on authentic Takara Tomy Beyblades. Anything else means it's a fake. Flip the layer of your Beyblade to see what type of screws are being used.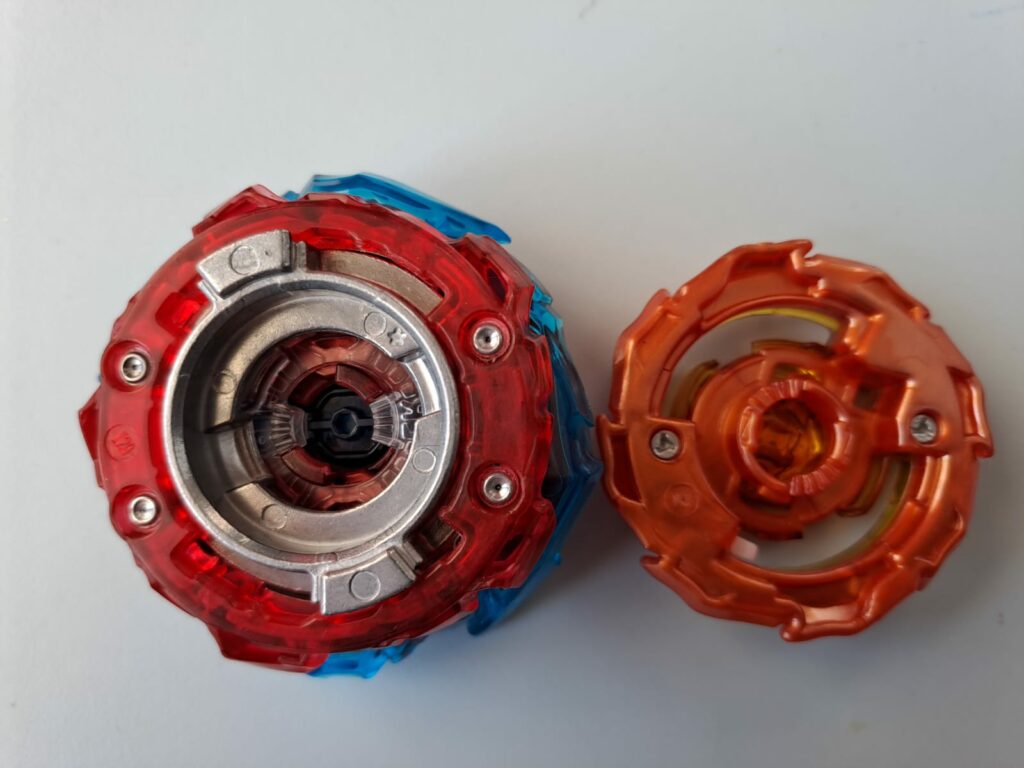 In the picture above, you can see an Infinite Achilles layer on the left, featuring headless screws. On the right is a Revive Phoenix layer, featuring tri-wing screws. Only tri-wings or headless screws are authentic.

Next let's look at an authentic vs a fake layer :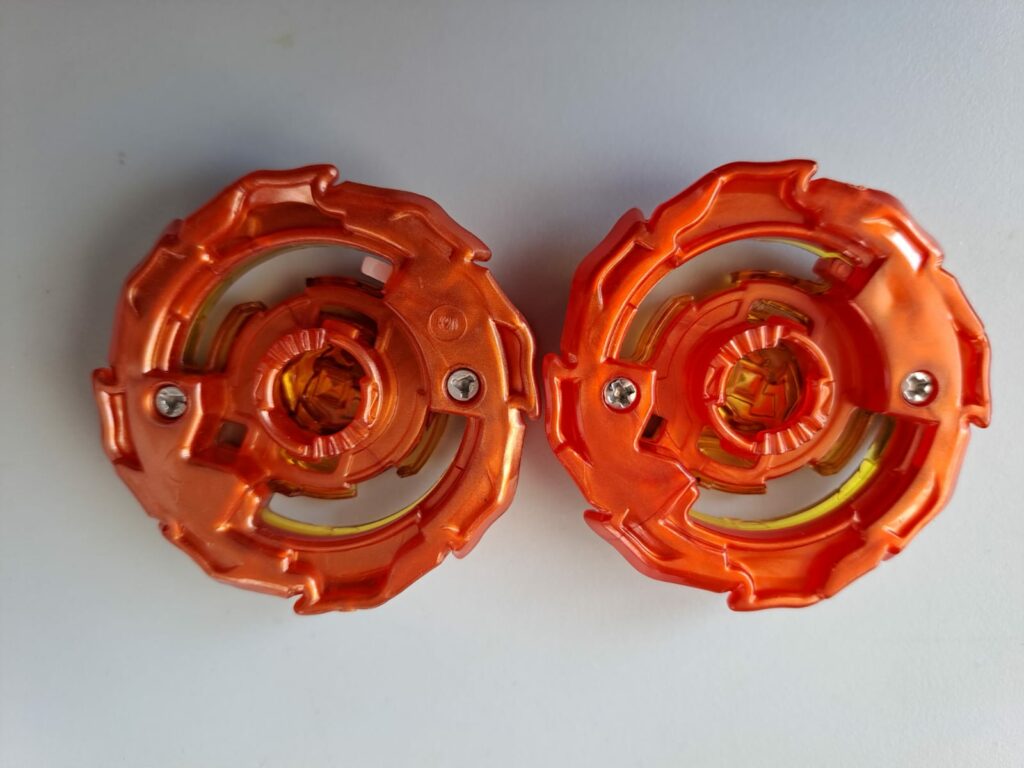 Look at the picture above, there's an authentic Revive Phoenix layer on the left, easy to tell because we have tri-wings screws. On the right, the screws used are not headless or tri-wings, so it is a fake Revive Phoenix layer.

Check the performance tip
There is always copyright information and a "Made in Vietnam" inscription on top of an authentic driver. If you look at the tip, you may see two flat head screws (one on each side of the tip). Only flat head screws are used by Takara Tomy, anything else means it is a fake.
Again, let's see an authentic driver vs a fake one :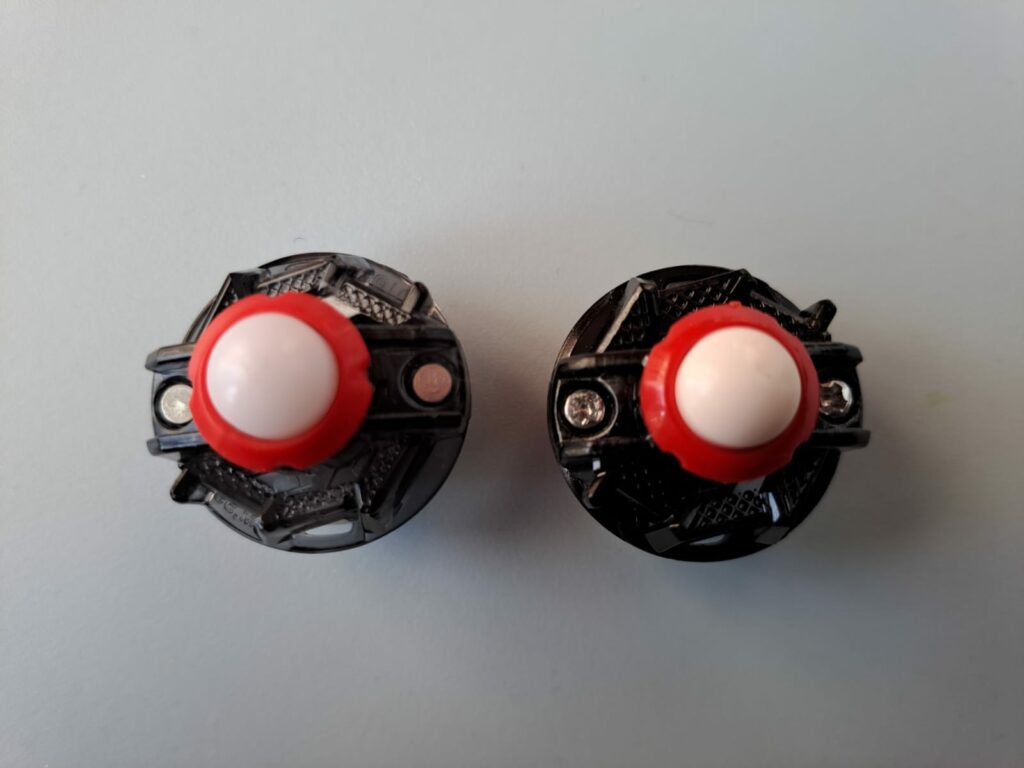 Should you worry about the weight of the components ?
No, do not judge the authenticity of your Beyblade based on weight. If your model has components that are heavier or lighter than the displayed weight in our Wiki pages, that's normal. While the Takara Tomy Beyblades are by far the best in terms of quality and playing experience, individual components quality can vary.

Parts can have faulty molds, free-spinning parts can spin more or less, and components such as Forge Discs can have different weights. Let's take Giga for example : the weight displayed on our Wiki pages is the average weight of all the Giga forge discs at our disposal, which is 32,6 grams. Your first Giga may be 31 grams, the next one you will get may be 33 grams. So don't fret about the weight of the components, just keep in mind that the heavier the better for performances.
Good to go !
That's it, now you know how to make an educated purchase and make sure the models you have or may have in the future are genuine Takara Tomy models. Enjoy Beyblade, be safe, and have fun !