SYSTEM : DYNAMITE BATTLE
PRODUCT CODE : B-00
COMPONENT : FORGE DISC
WEIGHT : Approx. 22 g
RELEASE DATE : August 2017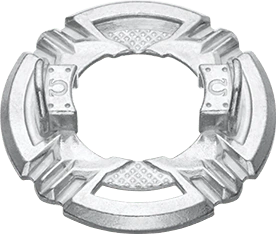 Description of Outer
First released with the B-00 Orichalcum Outer Octa Rare Bey Get Battle Prize Booster in August 2017, Outer is a Forge Disc from the God Layer system. This disc was introduced in a regular release with the B-128 Cho-Z Customize Set as part of the Cho-Z Layer system on November 17th, 2018.

This Forge Disc has a wide circular shape, featuring large gaps separating the center from the edge. These gaps are designed to create OWD (Outward Weight Distribution), which highly increases stamina potential. Furthermore, the smooth circular perimeter of this disc creates high LAD (Life After Death) potential. 

When it was released in 2017/2018, Outer became one of the best Forge Discs available, having a very stamina potential. When used in the God Layer and Cho-Z Layer systems, it was often combined with stamina Blades and Performances Tips such as Revolve or Atomic.

However, Outer has been outclassed by several Forge Discs designed with high OWD. First, 0 and 00 became the preferred option in the Cho-Z and Gatinko Layer systems, then Wheel in the Superking system, and discs such as Over in the Dynamite Battle and Burst Ultimate systems.
Final Thoughts on Outer Forge Disc
Therefore, Outer is a must have for players collecting and playing with models from the God Layer and Cho-Z Layer systems. However, it is now outclassed and cannot be recommended for players collecting models from the DB/BU systems, using Forge Discs that are approximately 10 grams heavier.
List of Beyblade Products
You can find the Outer forge disc in the following products :
B-00 Orichalcum Outer Octa (Rare Bey Get Battle)
B-00 Orichalcum Outer Octa (Dark Ver.)
B-128 Cho-Z Customize Set : Orb Egis Outer Quest
B-164-06 Random Booster Volume 20 : Union Spriggan Outer Quick' Zan
B-173-05 Random Booster Volume 22 : Hell Salamander Outer Universe (Gold Ver.)
B-186-05 Random Booster Volume 26 : World Dragon Outer Moment 4A
B-00 Grand Valkyrie Outer Variable' Ten (GIANTS Ver.)
B-00 Zwei Bahamut Outer Assault' Zan (wbba. store Exclusive, Slashing Dragon Ver.)