SYSTEM : SUPERKING
PRODUCT CODE : B-161
COMPONENT : FORGE DISC
WEIGHT : Approx. 30,6 g
RELEASE DATE : March 28th, 2020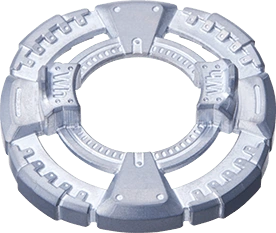 Description of Wheel
First released with the B-161 Glide Ragnaruk Wheel Revolve 1S Booster on March 28th, 2020, Wheel is a Forge Disc from the Superking Layer system.

This heavy Forge Disc features a round shape and four gaps, designed to improve OWD (Outward Weight Distribution), which increases stamina potential. With its weight, shape and design this Forge Disc has great stamina potential.

Its round perimeter even grants LAD (Life After Death) potential to the combination, allowing it to keep rolling even after falling down.

While the OWD and LAD are making Wheel a great forge disc for stamina combination, its heavy weight also makes it a good choice for attack or defense type combos.

Wheel has been outclassed in the Dynamite Battle and Burst Ultimate system, with the releases of forge discs featuring similar OWD and heavy weight, such as Illegal, Fortress or Over. It remains a good addition for players collecting models from the Superking Layer system.

Therefore, Wheel is not a must-have for competitive players.
List of Beyblade Products
You can find the Wheel Forge Disc in the following products :