SYSTEM : DYNAMITE BATTLE
PRODUCT CODE : B-181-03
COMPONENT : LAYER
SPIN DIRECTION : LEFT SPIN
WEIGHT : Approx. 15,4 g
RELEASE DATE : April 24th, 2021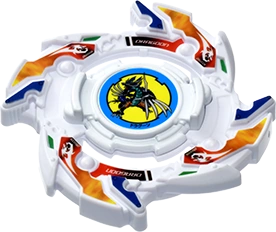 Description of the Dragoon V2 Layer
First Released with the B-181 Random Booster Volume 25 as part of the Dynamite Battle system on April 24th, 2021, Dragoon V2 is a left-spin Layer featuring a four blades along its perimeter.

It is the remake of one of the most popular Bakuten Shoot models, Beyblade's first generation, also known as the "plastic" generation.

While released in the Dynamite Battle system, Dragoon V2 does not feature the usual DB interchangeable parts, such as the Blade, DB Core and Armor. It is not compatible with High and Low Modes, and it is entirely made of plastic.

Dragoon V2 will struggle against any other Dynamite Battle or Burst Ultimate combination, the best way to enjoy it is to put it against other "plastic" remakes Layers.

Therefore, this Layer can be recommended to collectors only.
List of Beyblade Products
You can find the Dragoon V2 Energy Layer in the following products :