SYSTEM : DYNAMITE BATTLE
PRODUCT CODE : B-181-01
TYPE : STAMINA
COMPONENT : PERFORMANCE TIP
WEIGHT : Approx. 7,5 g
RELEASE DATE : April 24th, 2021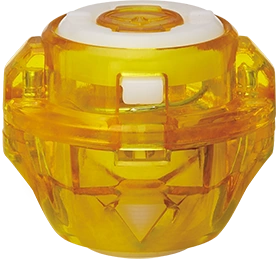 Description of Never
First released with the B-181 Random Booster Volume 25 as part of the Dynamite Battle system on April 24th, 2021, Never is a stamina type performance type, featuring a free spinning sharp tip surrounded by a plastic ring made of POM (Polyoxymethylene), a material known for its low friction. The free spinning tip is very sharp, limiting friction as well.

Never doesn't match the stamina of competitive drivers such as Bearing Drift, Bearing', Drift etc. but it is at least entertaining to watch in the DB stadium. It can remain stable on the ridge, then suddenly lunge back in the center of the arena, be struck by its opponent, and stabilize itself on the outer area of the stadium again. The low friction components along with the free spinning tip of Never seem to allow good mobility while retaining high stamina in the combination.

In Takara Tomy's standard arena, Never tends to lose the battle for the stadium's center easily. When struck by the opponent, the combination is easily pushed back, leaving the stadium's center open for its opponent and then losing stamina by moving around uselessly. Against attack combinations, Never can mitigate a few impacts at times, but once its limits have been reached, it can be sent flying in a K.O. pocket or the stadium's walls.

While not matching top tier drivers such as Bearing', Drift and others, Never is easy to use, allowing the combination to be launched with a lot of strength without losing control. It's also worth noting that Never combined with a smooth blade can be decent against opposite spin opponents.

Finally, as for every component featuring free-spinning parts, Never's free-spinning tip performance may vary from a model to another.
Final Thoughts on Never
Never is not a must-have for competitive players, being outclassed by a few stamina drivers now famous in the Beyblade community (High Xtend+', Drift, Bearing Drift etc.).

If used with no real competitive purpose, this Performance Tip is a very good addition to any player's collection.
List of Beyblade Products
You can find the Never Performance Tip in the following products :